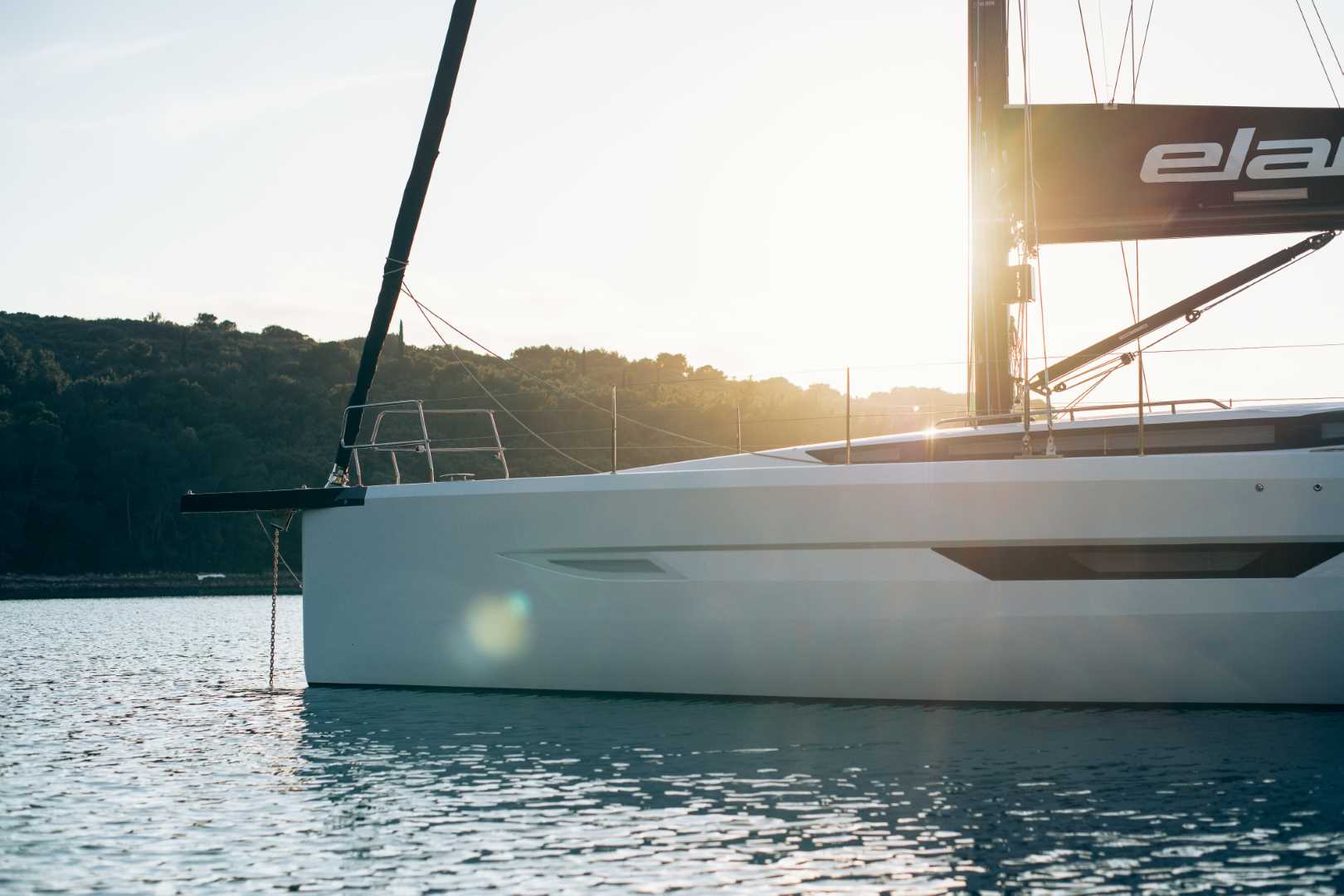 Elan E6 Launched
New E-Line Flagship Model With Game-Changing Performance
19.04.2022
Elan Yachts reveals its new E6 has exceeded expectations in sea trials after the official launch event with Humphreys Yacht Design and Pininfarina
Portorož, Slovenia, Thursday 17 March
Elan Yachts has built, commissioned and sea-trialled the new flagship model of its high-performance E-Line range. Officially launched in Elan's home harbour of Portoroz on 14 March, the 47 ft Elan E6 is the largest, and fastest performance cruiser that the Slovenian shipyard has produced to date.  
With unique styling by Pininfarina, a next-generation hull by Humphreys Yacht Design (HYD) and hi-tech composite construction engineered by Gurit, the result is a remarkably powerful yet easy-to-handle boat whose 11-ton displacement is significantly lighter than almost any other yacht in its class.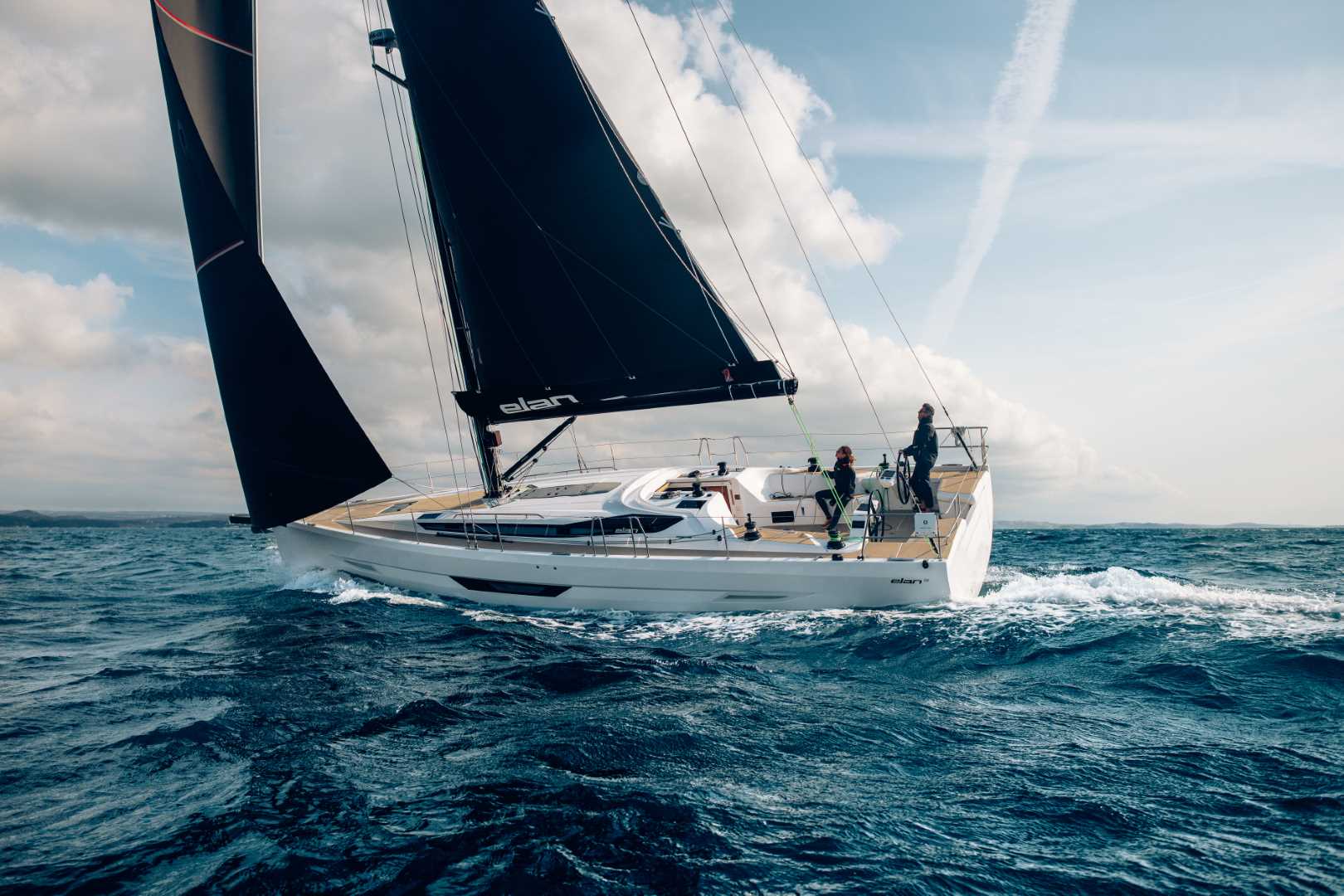 In early sea trials on the northern Adriatic, the E6 has already surpassed the performance and handling targets set by Elan Yachts' managing director, Marko Škrbin, who challenged the design and build team to deliver a genuinely game-changing dual-purpose yacht with equal potential for both cruising and racing.
Upwind boatspeed of 8 knots-plus was easily achieved in a true wind speed of 12 knots and the prototype E6 planes when power reaching, with speed in the mid-teens, despite being fully loaded with almost a ton of 'optional extra' cruising equipment on board.
Excellent performance in light airs is also reported, along with the Elan E-Line's defining characteristics of controllable, easy handling and a balanced, responsive helm across a wide range of wind and sea conditions. The deck plan and cockpit ergonomics have been fine-tuned by a team of former Olympic sailors, working closely with Elan's in-house cruising experts.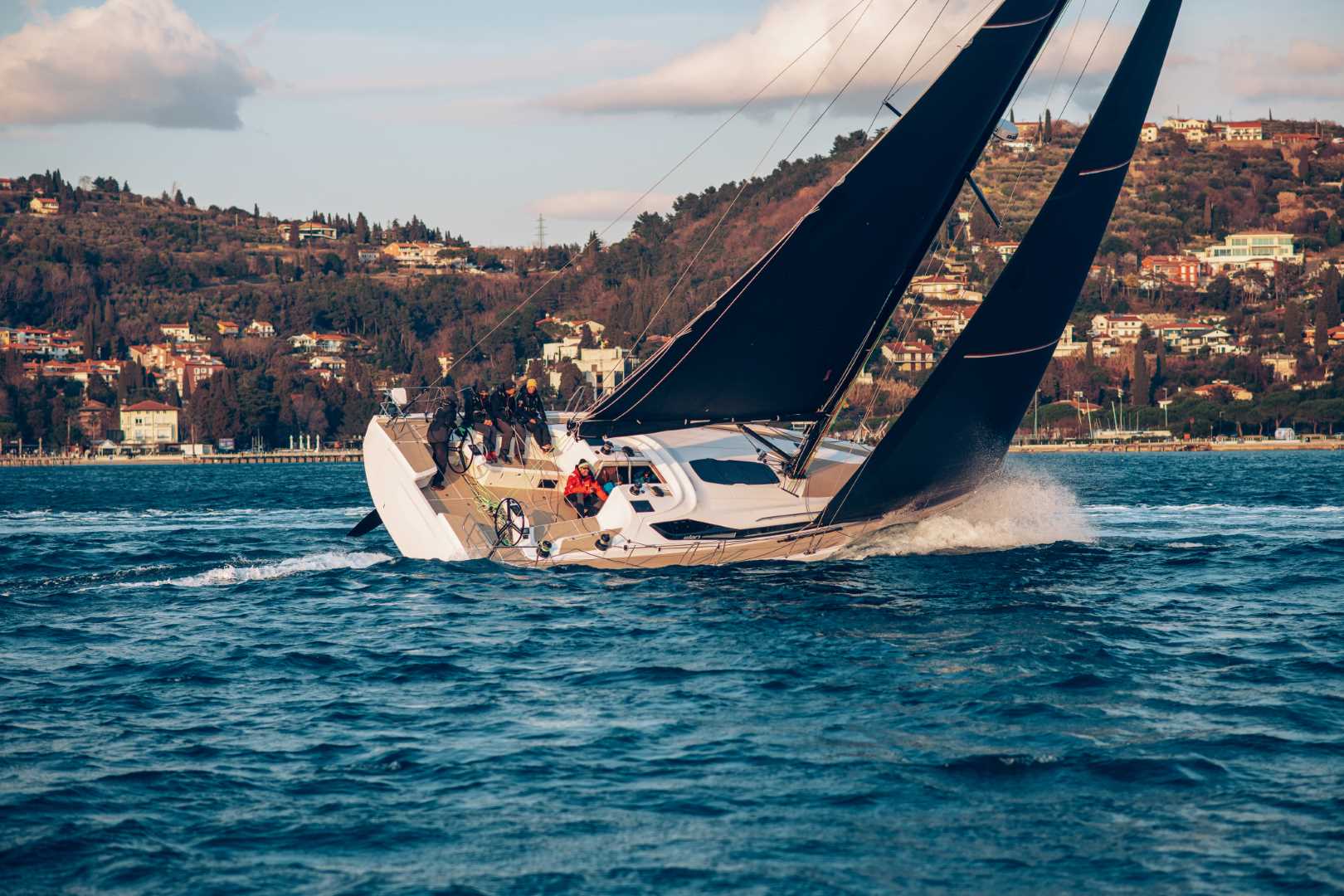 The on-target performance gains of the new E6 were achieved through a combination of CFD modelling to refine the fourth-generation hull shape by HYD, further improvements of Elan Yachts' 3D VAIL (vacuum-assisted infusion lamination) build process, and an extensively optimised laminate plan by Gurit, which delivers a stronger and stiffer yet significantly lighter hull.  
The key features of the E6's naval architecture include a relatively slender waterline beam to ensure good performance in light airs; broad and powerful aft sections just above the waterline with active hard chines to boost form stability and give excellent performance in stronger winds on all points of sail, and less rocker than previous E-Line models to promote planing.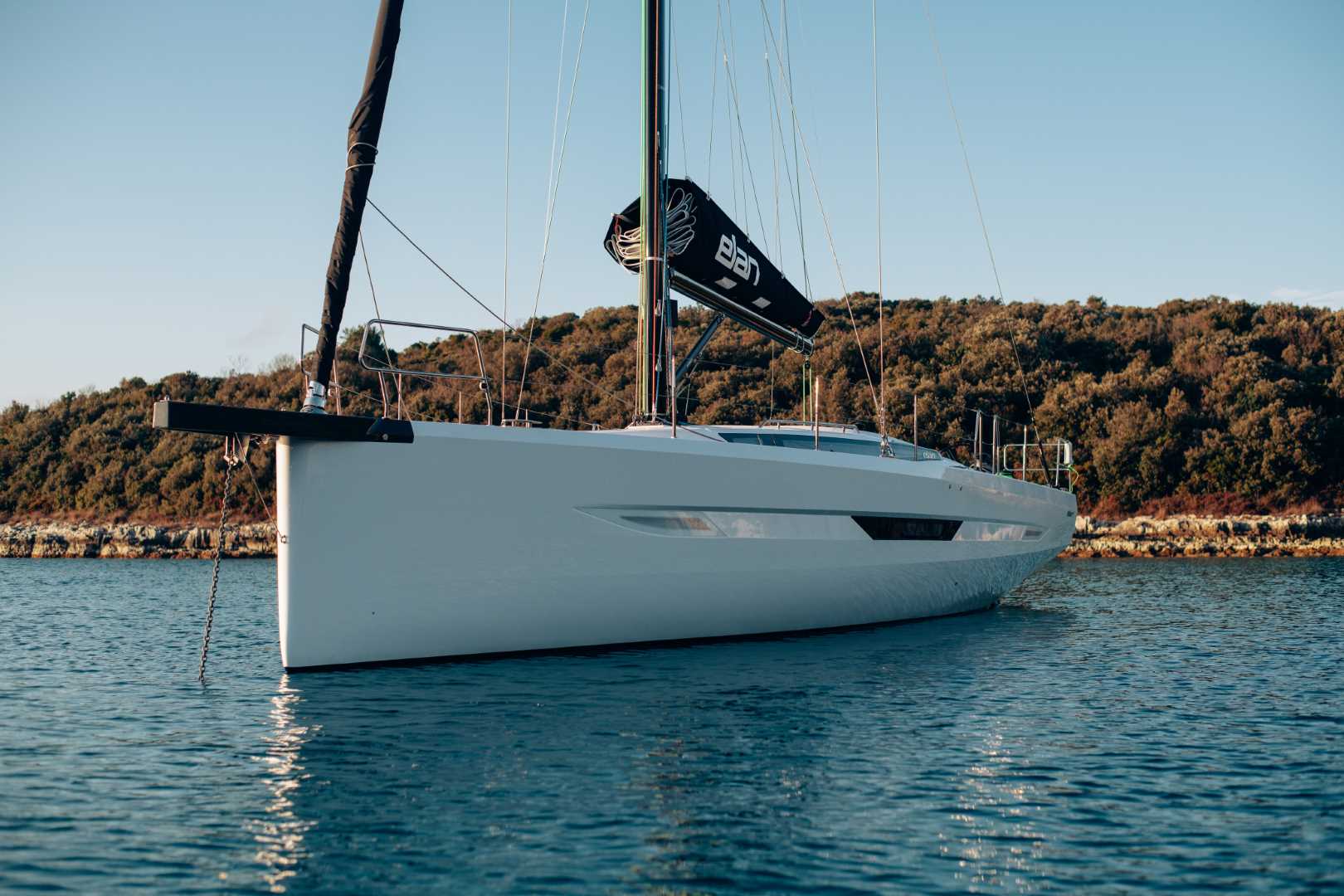 The E6's twin rudders give directional stability and ensure full helm control even when overpowered, while reducing the amount of active sail-trimming required by the crew in strong, gusty winds. Three fin-and-bulb T-keel options are available, ranging from a 2.4m (7ft 10in) draught version for cruising to a 2.95m (9ft 8in) race-optimised version.  
The exterior styling by Pininfarina – which is also responsible for the iconic designs of Wally superyachts and the foiling Persico F70 – gives the E6 a muscular and purposeful shape with clean, crisp lines and an uncluttered deck. The ultra-low profile coachroof has unique, distinctive portlights that flare across the aft corners of the coachroof to let more light into the saloon. Ergonomic back support is built into the cockpit coamings.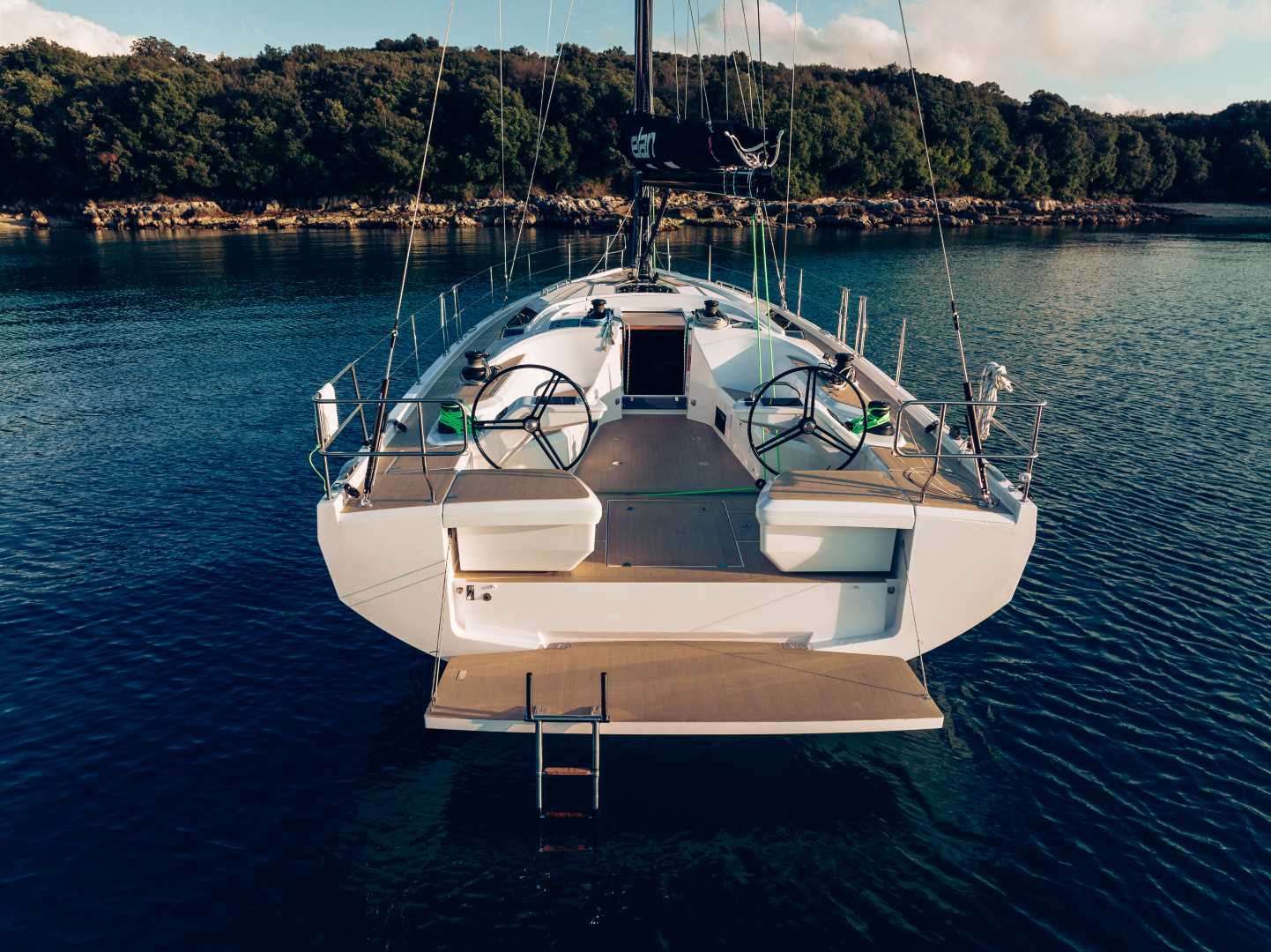 Pininfarina's interior design for the E6 is bright and contemporary with stand-out features such as light oak joinery with a natural brushed finish, distinctively patterned premium technical fabrics, matt black detailing and an elegant but practical set of moulded companionway steps. The internal structures that strengthen and stiffen the hull are integrated into the furniture, which can be built in weight-optimised composite materials to further improve the yacht's performance.  
 'This was a good opportunity to design something special,' says Daniele Mazzon, chief transportation designer at Pininfarina. 'We always work in parallel with the naval architects and the shipyard. We started from scratch and mixed Elan's design heritage with Pininfarina character to give a feel of performance. In the interior we played with the detailing, using matt black to create a strong impression of technology.'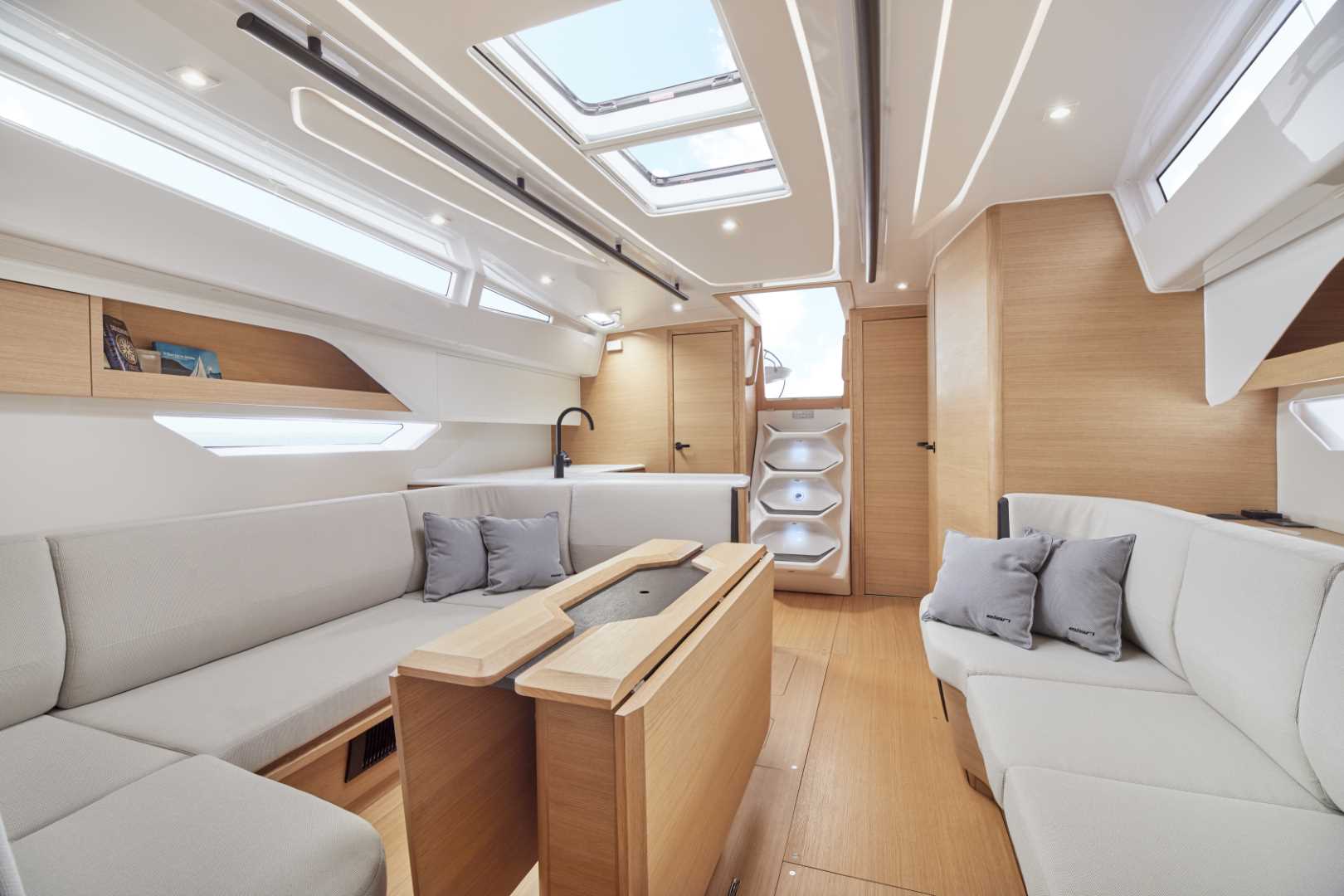 'The brief was to push the performance of the E6 beyond what would typically be considered feasible for a mid-40ft production yacht,' says HYD's Tom Humphreys. 'It was building on our past success but also taking things to a new level. There was a much stricter approach to weight saving, building on Elan's vacuum infusion process and bringing in composite engineering from Gurit.  
 'The key driver was to enhance performance, minimising displacement while at the same time maximising stability. With the lighter displacement we've been able to be a bit more aggressive with how we shape the hull form: relatively slender at the waterline but with wide beam and the chines which start to pick up a lot of stability as soon as we start to heel a bit and lean on them.' 
'The boat is capable of doing well on the racecourse but it's a family yacht too,' says Rob Humphreys of HYD. 'The nature of sailing is often shorthanded these days and the twin rudders give you control, which is pretty important. Elan are very experienced in this market sector and the E6 is taking it to another level.' 
'Elan as a shipyard has a long history and we've made huge advancements along the way,' says Marko Škrbin, managing director of Elan Yachts. 'With any new yacht we're always looking for what we call a crossover balance, between performance and comfort. For the E6, the emphasis is on performance but it's a dual-purpose boat. You can enter regattas with friends and get good results, then enjoy a comfortable three-week cruise with your family.'