Elan

Impression Line
Elan has designed a full range of new Deck Saloon yachts to satisfy the demanding needs of modern yachtsmen. These stunning yachts have been designed with every cruising comfort in mind. The on-deck systems allow for easy sailing especially for "short-handed" cruising while giving the space and comfort that you might only expect from a much larger yacht both above and below decks. Welcome to the world of Impression Yachts - what's your Impression?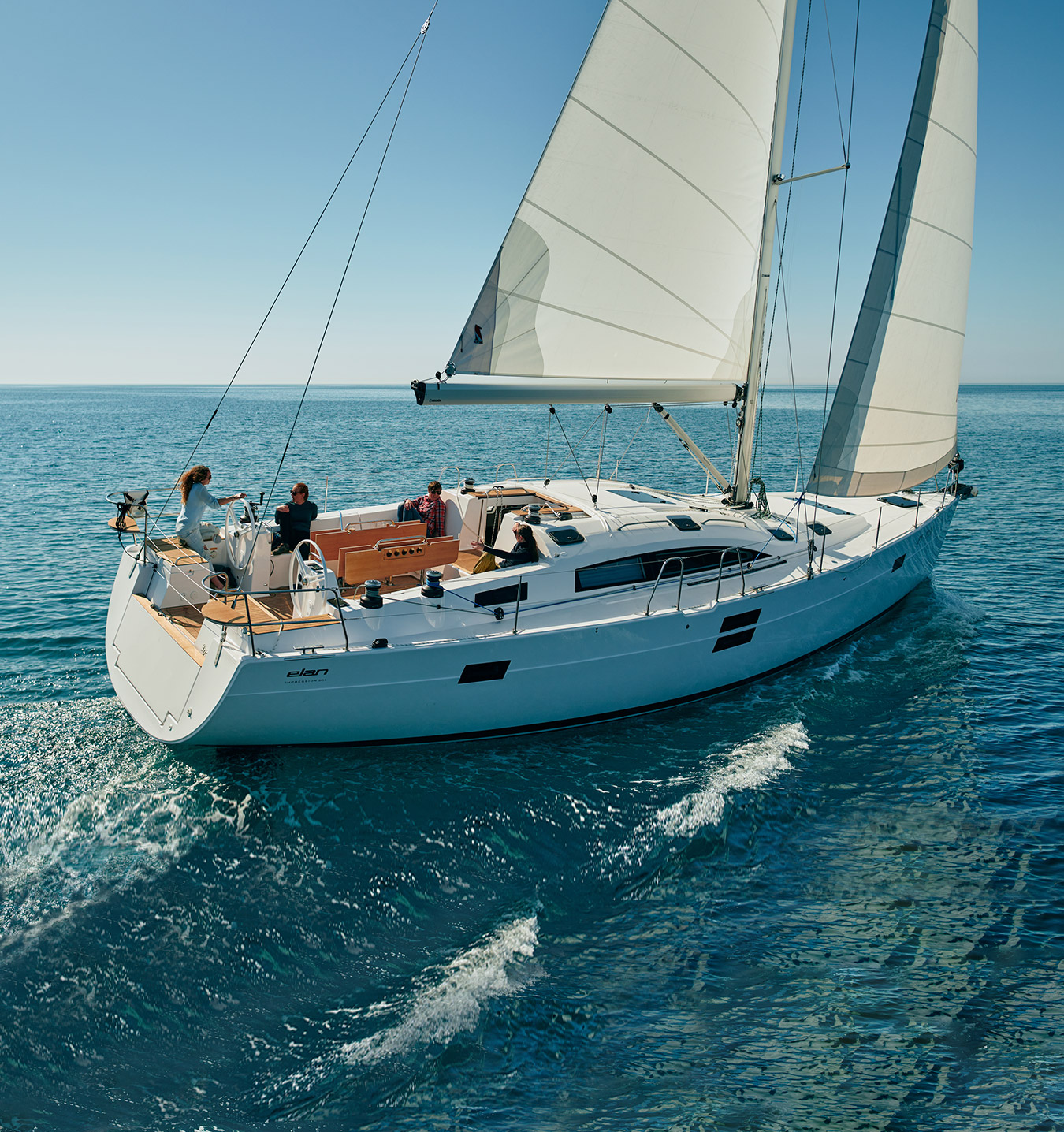 Elan Impression 50.1
Cruiser for those demanding ultimate comfort inside and on the deck. This yacht is created to be sailed by a couple and berth up to 12 people.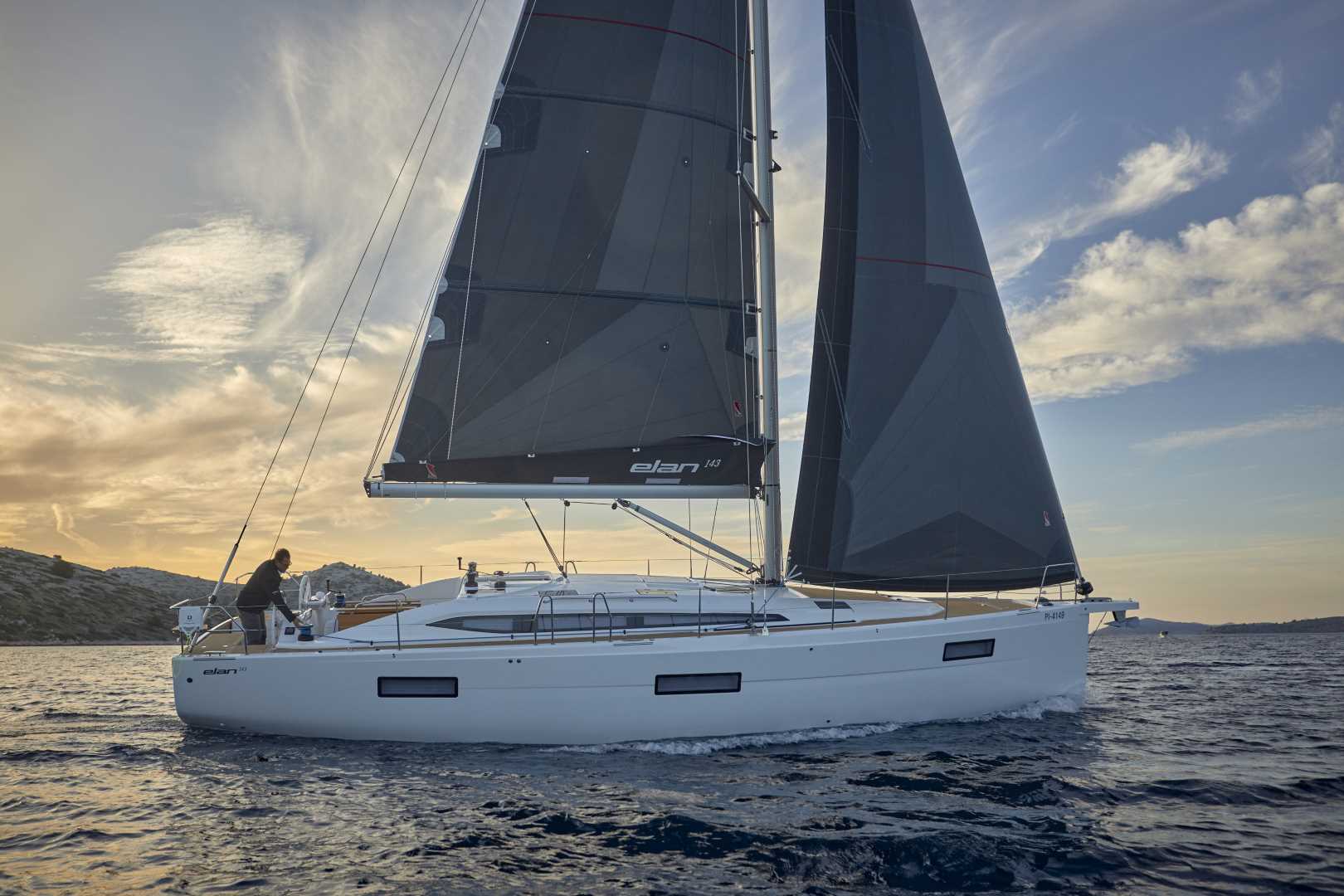 Elan Impression 43
The new Impression 43 is a quintessential family cruiser, perfectly sized for easy handling, medium crews and comfort. Packed with high-end composite technology and modern equipment, this yacht is meant for families, friends and charter investment. 
|   | | |
| --- | --- | --- |
| Length Overall | 13.32 m  | 15.18 m |
|   | 43' 8''  | 49' 10'' |
| Lenght Overall (with bowsprit) | 13.60 m |   |
|   | 44' 7" |   |
|  Hull length | 12.82 m | 14.83 m |
|   | 42'  | 48' 8'' |
|  Length at waterline | 12.20 m | 13.76 m |
|   | 40' | 45' 2'' |
|  Beam | 4.25 m   | 4.68 m |
|   | 13' 11" | 15' 4'' |
|  Draft (standard) | 1.95 m | 2.23 m |
|   | 6' 5" | 7' 4'' |
|  Draft (option) | 1.70 m | 1.84 m |
|   | 5' 7" | 6' 1'' |
|  Light displacement | 11,100 kg | 12,660 kg |
|   | 24,471 lbs | 27,910 lbs |
|  Ballast (standard) | 3,541 kg  | 4,500 kg |
|   | 7,807 lbs | 9,920 lbs |
|  Ballast (option) | 3,686 kg  | 4,800 kg |
|   | 8,126 lbs | 10,582 lbs |
|  Water capacity | 270 l | 605 l |
|   | 71.3 US gal | 160 US gal |
| Water capacity (option) | 470 L |   |
|   | 124 US gal |   |
|  Fuel capacity | 287 l | 255 l |
|   | 75.8 US gal | 67 US gal |
|  Engine Yanmar (standard) | 33.5 kW | 58.8 kW |
|   | 45 hp | 80 hp |
|  Engine Yanmar (option) | 41.9 kW |   |
|   | 57 hp |   |
| Engine Yanmar (option) | 58.8 kW |   |
|   | 80 hp |   |
| Engine Oceanvolt (electrc option) | TBQ | 15kW twin Oceanvolt electric |
|  Air draft (incl. antenna)  | 19.90 m | 22.9 m |
|   | 65'  3" | 75' 2'' |
|  Mainsail | 46.68 m² | 57.96 m² |
|   | 502.5 ft² | 623.9 ft² |
| Furling | 42.10 m² | 55.94 m² |
|   | 453.2 ft² | 602.2 ft² |
| Self-Tacking Jib  | 34.1 m2 (std) |   |
|   | 367 ft² (std) |   |
| Genoa | 41.30 m²  | 50.65 m² |
|   | 444.5 ft² | 545.2 ft² |
|  Gennaker | 118 m² | 173 m² |
|   | 1,270 ft² | 1,862.1 ft² |
| I | 16.30 m | 19 m |
|   | 53' 6" | 62'4'' |
| J | 4.82 m | 5.61 m |
|   | 15' 9"  | 18'5'' |
| P | 15.20 m | 17.9 m |
|   | 49'10" | 58'9'' |
| E | 5.43 m | 6.25 m |
|   | 17' 10" | 20'6'' |
| Design | Humphreys Yacht Design, Pininfarina & Elan Design Team | Humphreys Yacht Design & Elan Design Team |