Elan

Impression Line
Elan has designed a full range of new Deck Saloon yachts to satisfy the demanding needs of modern yachtsmen. These stunning yachts have been designed with every cruising comfort in mind. The on-deck systems allow for easy sailing especially for "short-handed" cruising while giving the space and comfort that you might only expect from a much larger yacht both above and below decks. Welcome to the world of Impression Yachts - what's your Impression?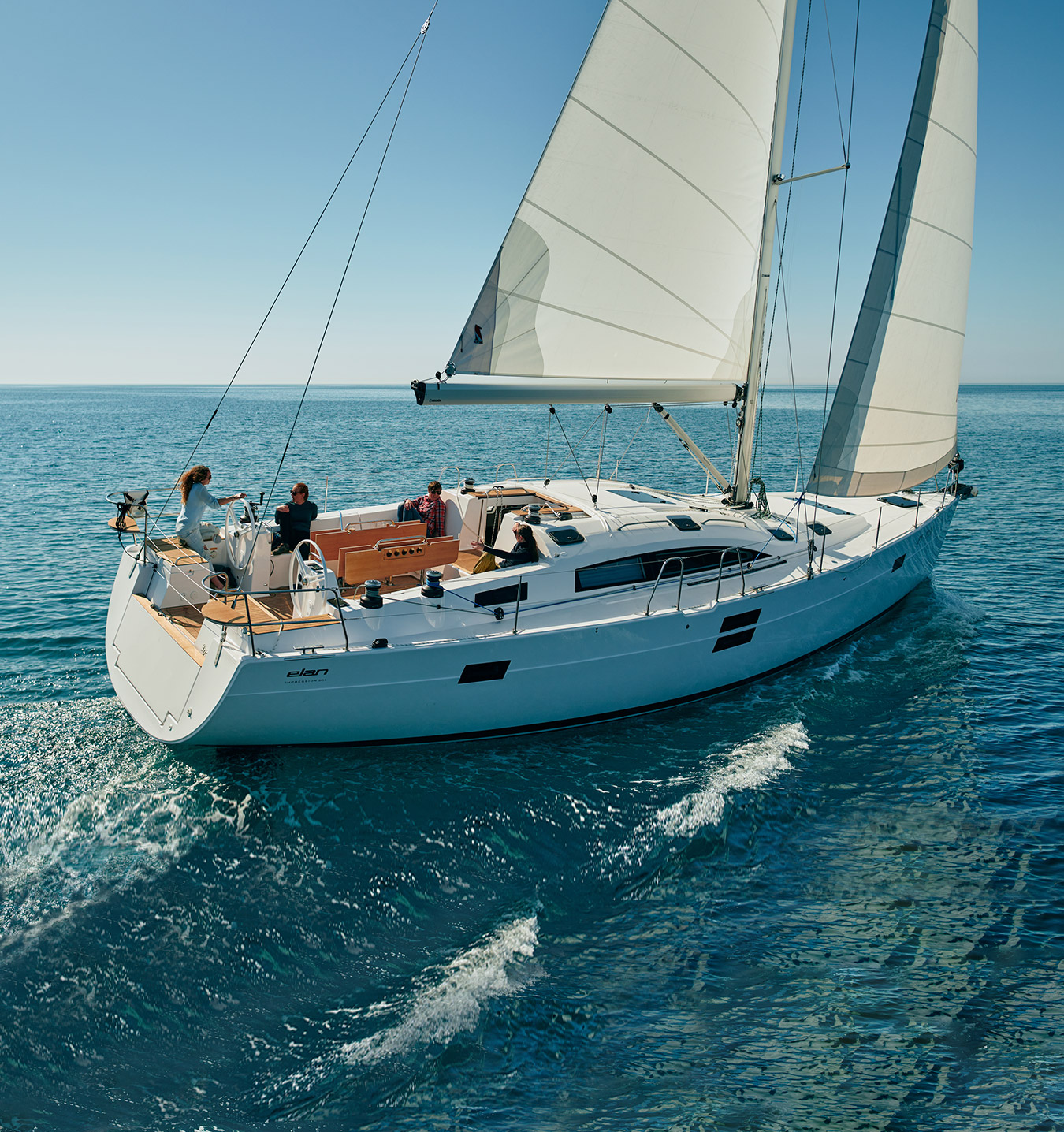 Elan Impression 50.1
Cruiser for those demanding ultimate comfort inside and on the deck. This yacht is created to be sailed by a couple and berth up to 12 people.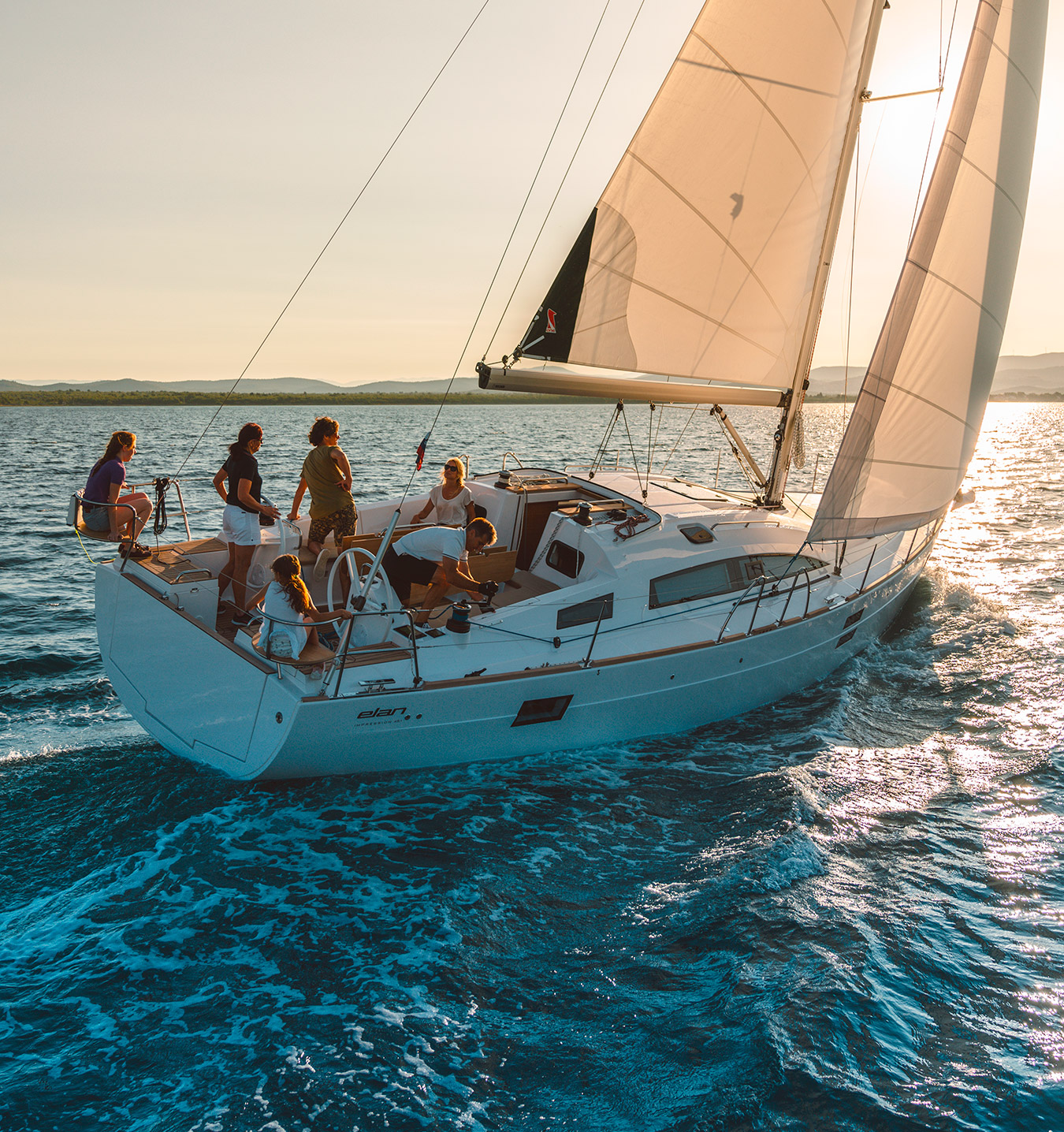 Elan Impression 45.1
One of the best investments on the charter market, the I45.1 can offer a large number of berths, extremely safe sailing characteristics and unparalleled value retention.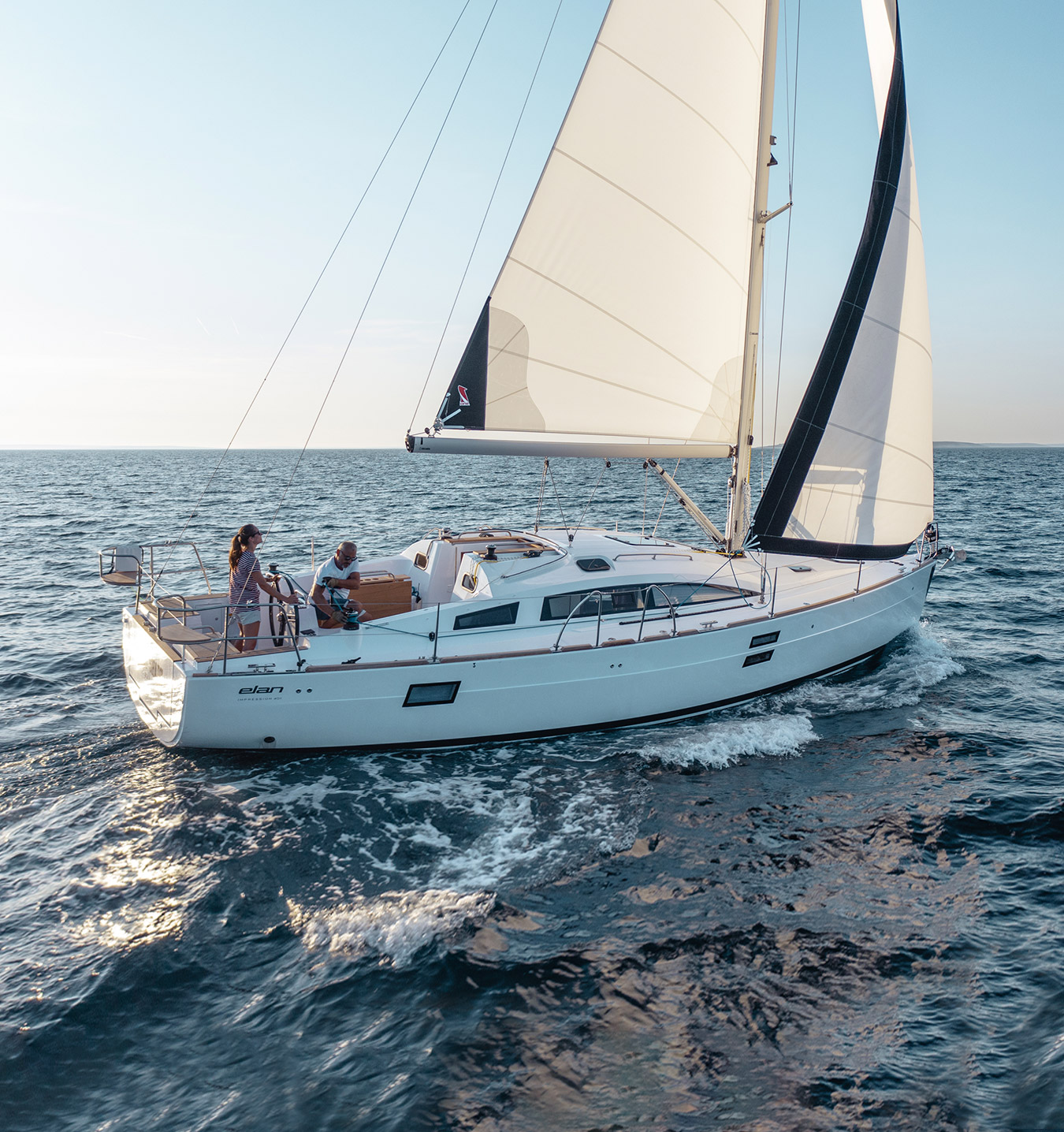 Elan Impression 40.1
A perfect family cruiser offering spacious interior, safe and easy dual-handed sailing and enables great time on the water for all.
 

Length Overall

11.99 m

13.51 m

15.18 m
 

39'4''

44'4''

49'10''

 Hull length

11.48 m

13 m

14.83 m
 

37'8''

42'8''

48'8'''

 Length at waterline

10 m

11.44 m

13.76 m
 

32'1''

37'6''

45'2''

 Beam

3.91 m

4.18 m

4.68 m
 

12'10''

13'9''

15'4''

 Draft (standard)

1.8 m

1.9 m

2.23 m
 

5'11''

6'3''

7'4''

 Draft (option)

1.5 m

1.6 m

1.84 m
 

4'11''

5'3''

6'1''

 Light displacement

8.250 kg

10.790 kg

12.660 kg
 

18.188 lbs

23.787 lbs

27.910 lbs

 Ballast (standard)

2.545 kg

3.310 kg

4.500 kg
 

5.610 lbs

7.297 lbs

9.920 lbs

 Ballast (option)

2.479 kg

3.450 kg


4800 kg
 

5.465 lbs

7.606 lbs

10.582 lbs

 Water capacity

240 l

300 l

605 l
 

63 US gal

79.3 US gal

160 US gal

Water capacity (option)

520 l

572 l

 
 

137 US gal

151.1 US gal

 

 Fuel capacity

146 l

215 l

255 l
 

38 US gal

56 US gal

67 US gal

 Engine Yanmar (standard)

21.3 kW

33.1 kW

58.8 kW

 

29.1 mhp

45 mph

80 mhp

 Engine Yanmar (option)

33.1 kW

41.9 kW

 
 

45 mhp

57 mph

 
Engine Oceanvolt (electrc option)

10 kW Oceanvolt electric

15 kW Oceanvolt electric

15 kW Oceanvolt electric

15kW twin Oceanvolt electric

 Air draft (incl. antenna) 

17.60 m

19.5 m
22.9 m
 

57'9''

63'12''
75'2''

 Mainsail

37.9 m²

46.79 m²

57.96 m²

 

407.9 ft²

503.6 ft²

623.9 ft²

Furling

31.59 m²

39.75 m

55.94 m²
 

340.1 ft²

427.8 ft²

602.2 ft²

Genoa

38.11 m²

52.47 m²

50.65 m²
 

410.1 ft²

564.7 ft²

545.2 ft²

 Gennaker

81 m²

110 m²

173 m²

 

871.9 ft²

1184 ft²

1862.1 ft²
I

13.96 m

15.9 m

19 m
 

45'10''

52'2''

62'4''
J

3.90 m

4.78 m

5.61 m
 

12'90''

15'8''

18'5''
P

13 m

14.80 m

17.9 m
 

42'8''

48'7''

58'9''
E

4.86 m

5.37 m

6.25 m
 

15'11''

17'7''

20'6''

Design

Humphreys Yacht Design & Elan Design Team

Humphreys Yacht Design & Elan Design Team

Humphreys Yacht Design & Elan Design Team