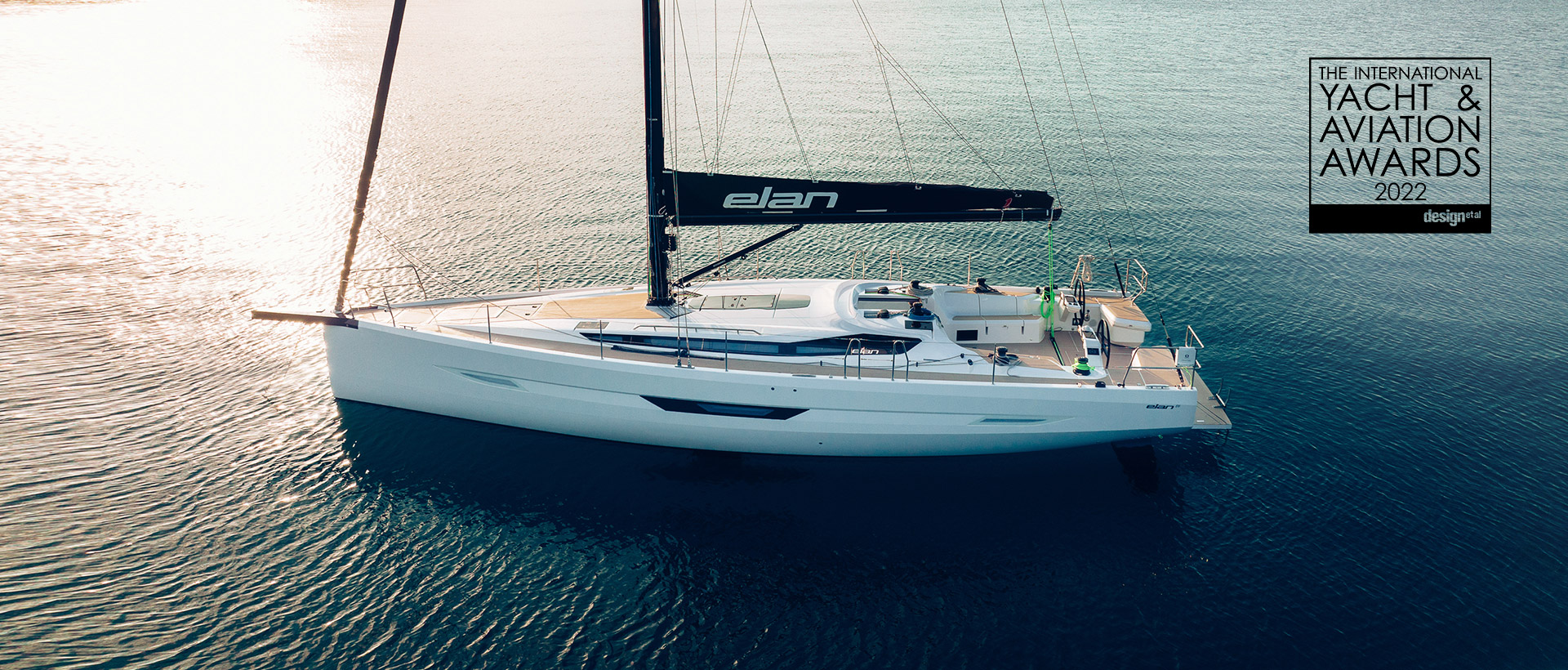 Elan E6 shortlisted at The International Yacht & Aviation Awards 2022, category: Sailing Yachts
17.05.2022
Our new 47 feet performance flagship Elan E6 has recently been shortlisted in the category Sailing Yachts at one of the most recognisable design competitions - The 11th International Yacht & Aviation Awards 2022. This award ceremony is hosted by interior and aviation design magazines Design et al and Luxe et al, which focus on innovative and inspirational side of designed products and accolade the most outstanding designs worldwide.
Awards themselves are sorted among different categories such as motor yachts, sailing yachts, interior design, master cabin design, private jet interior, etc. The competition enables broader community of design enthusiasts to view the latest breath-taking designs, vote for their favourite one, and thus participate in the award winning process. 
Click here for more information about how you can vote
Elan E6 has charmed the jury in the first round of elections with its muscular sporty looks enabled with minimalistic soft elegant lines. Merit goes to successul collaboratian between Elan Yachts with famous Italian design studio Pininfarina, which reflects in recognisable design, based on primary exterior elements of the E-line on the one hand, significantly influenced by Pininfarina's design style on the other, which gave our yacht a completely unique breathtaking looks.
»We decided to join forces with Pininfarina because of their references in performance section of transport design. Their exquisite touch is recognisable on the Elan E6 as well, and we are very satisfied with the final product. We are also very proud that it is recognised in the world of product design too and that it has been shortlisted for such an important award in its segment,« said Marko Škrbin, the director of Elan Yachts.
Elan E6 has been launched on the 14th of March and since then, this is already her second accomplishment in the world of design industry.  
You can watch the official release video here.
This recognised beauty has been designed and crafted with a dual purpose, for discerning sailors that demand great sailing properties of their sailboat to achieve good results on regattas, and still be able to take their families on long and comfortable vacations with all of the features needed to enjoy their time aboard. Her structural technology, naval architecture and used materials make her a very fast and agile sailboat and her aesthetics gives their owners even more superior experience when sailing.