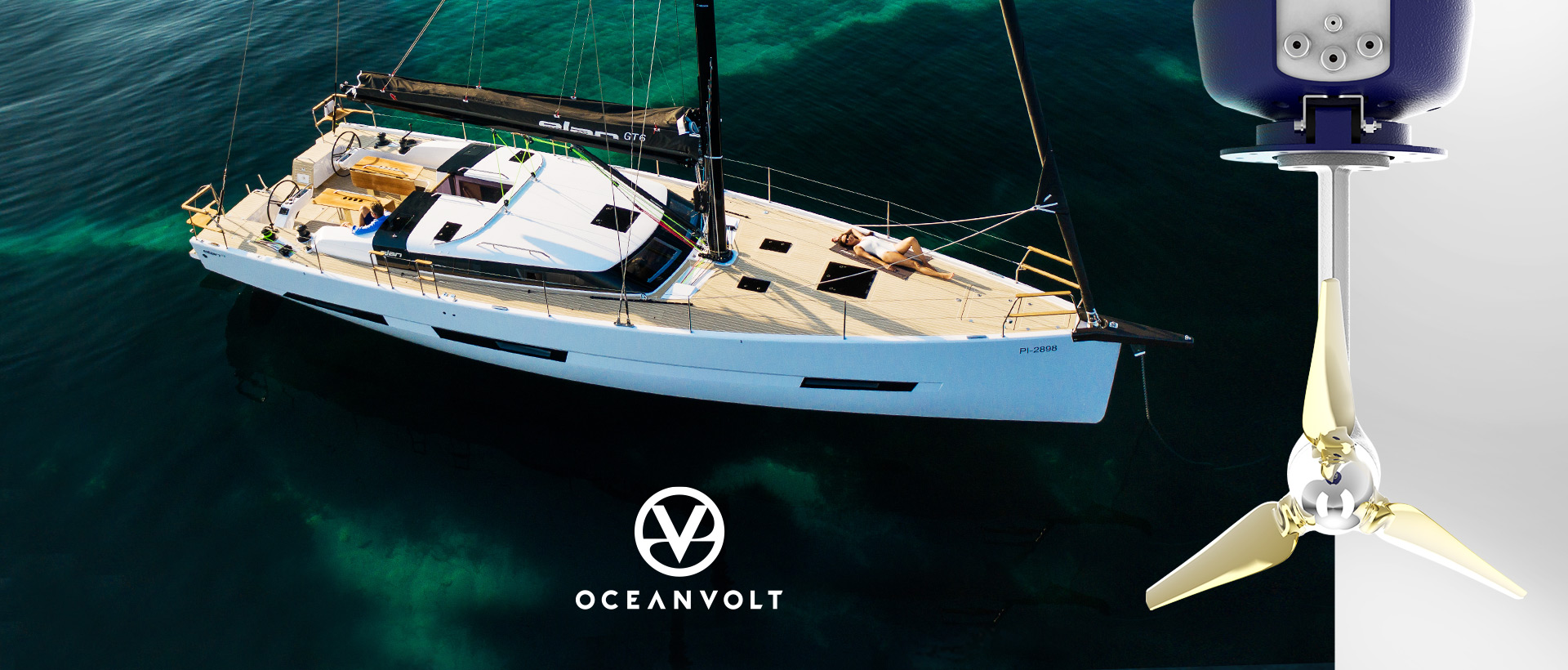 What You Need to Know Before Buying an Electric Sailing Yacht or Sailboat
23.02.2021
It's no secret that we're approaching, or have maybe even passed the moment in history where most buyers are considering buying an electric vehicle. The awkward early adopter phase is long gone, doubters few and far between, and every car manufacturer has at least some EV options, while others focus exclusively on electric and are experiencing massive growth. Mass adoption is here, the prices are falling, and infrastructure and legislature are hurrying to catch up.
All of this has left many people wondering why not bring sailing boats into the electric world? Sailing was never about motoring, never about engine speed – it is about that connection to nature, the serenity of the sea and the challenge. So why not get rid of the "dirty and loud" diesel engine, and simply exchange it for "clean and quiet" electric propulsion? Motor out of the marina or bay in silence, then use the sun, wind and waves to continue your journey.
Well – it turns out that like all good things in life, it's not that simple, but it can be completely viable if approached correctly, and Elan and Oceanvolt have partnered-up to offer just that.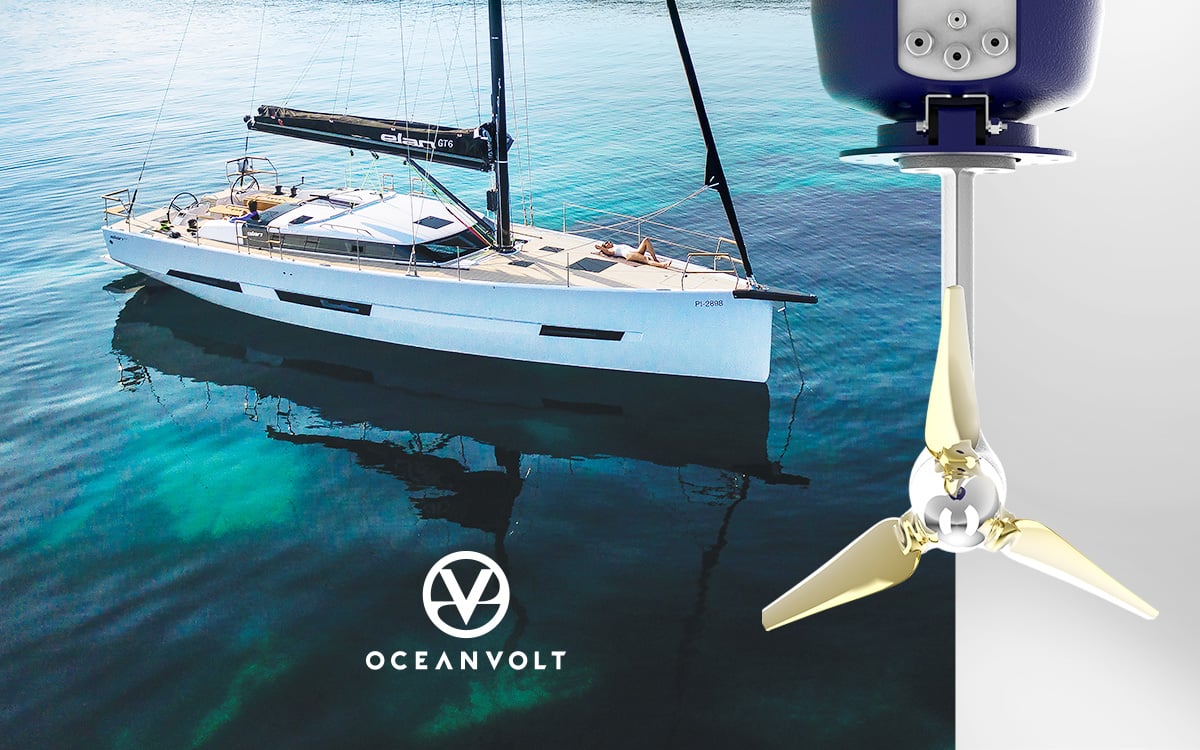 EARLY ADOPTER PHASE
Unlike the automobile industry, electric-powered yachting is still in the early adopter phase. That is why picking experienced manufacturers is crucial. Elan Yachts, for instance, had built various highly successful projects with Oceanvolt in the past and were part of the pioneering few boatbuilders to take on the challenge. The partnership flourished and matured so that Elan is now working exclusively with Oceanvolt and has extended the offer to their whole range of yachts. But what does being an early adopter mean for the buyer? Mostly that the technology is here, but the price is high. For a well-rounded, high-quality and reliable system, you can expect to pay 20-30% more than a comparable diesel-powered sailing yacht. And since a large part of that cost is for the batteries, do not expect that to change very soon as the demand for Lithium-ion batteries is only increasing.
FOR SERIOUS SAILORS
However, let's assume that the price is not a problem. You want to be among the first few with a zero-emissions yacht – no noise, no exhaust, no smell and no environmental restrictions. You want to sail without the use of fossil fuels. You want the famous instant power output benefits of electricity in emergency situations, no engine rev settling, no pre-start waiting and low maintenance costs. You want to use the wind and the sun to re-charge. All of these are actual benefits of electric yacht propulsion, but what are the downsides? For committed sailors, there are not many. The operating range of high-end electric propulsion systems like the one from Oceanvolt is from 25 to 70 miles at 5 knots (and more, depending on the battery pack options and power generation), which is more than enough to get you in and out of marinas and bays and still have plenty left over to get you out of a bind. The rest, you sail. And if the yacht is fast, the winds are fair and you achieve 5 knots or more, Oceanvolt's hydrogeneration kicks in and generates power for recharging the battery bank. Hydrogeneration creates drag of only 0.1 knot at a boat speed of 7.0 knots – so it is barely noticeable. If you can go even faster, the power generation increases exponentially (see GRAPH 1).
GRAPH 1: Elan E4 Power generation prediction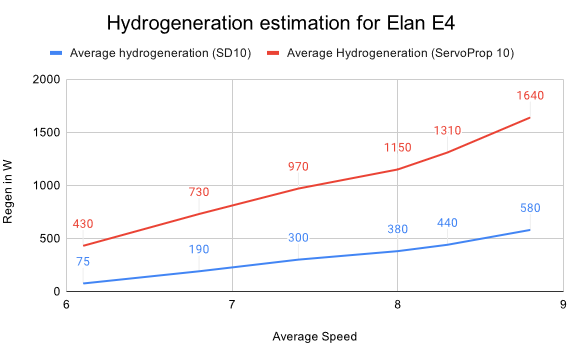 (Source: Oceanvolt)
LIVING ABOARD
Buying an electric-powered yacht is still far from an off-the-shelf experience. You need a trusted team of specialists who will guide you through the process and make sure they create a custom solution according to your needs and a good partnership between the shipyard and the electric propulsion provider is crucial. Why is this so different from a car? A yacht is an independent element on the sea and, unlike a car, it will need to provide its owner with much more than just propulsion. It is imperative therefore to consider everything, from the way the yacht is built to the equipment on board. Since you will spend most of your time sailing, you need a yacht that performs well and is easy to sail. A good, reliable sail plan and rig, like the one on Elan yachts, will give you enough options to substitute the practicality of a diesel engine. Elan's VAIL technology keeps the weight down, its short-handed sailing approach and comfort-centric design will keep you comfortable even when sailing for longer periods, and the high-end electronics are designed to keep consumption low. That is crucial because you will need to bear in mind cooking, refrigeration, water and cabin heating and entertainment, as well as the availability of ports/marinas with good electrical infrastructure. Of course, there are fossil fuel solutions for all these challenges, and Elan's and Oceanvolt's partnership offers a hybrid option with a 48V DC generator, which is very practical, if on the pricier side. Purists, however, will want to go full electric. And for them, more renewable power generation options like photovoltaics, a wind generator or a humbler approach to on-board living will be crucial, especially in colder climates. Bear in mind that experienced shipyards like Elan Yachts will be able to provide a complete solution, including solar panel procurement and installation.
POWER OPTIONS
How powerful are electric motors on sailboats? Well, Oceanvolt offers two different propulsion systems. The Finland-based company has developed a 6, 8, 10 and 15kW SD saildrive, as well as a special 10 and 15kW ServoProp with even better hydrogeneration, thanks to its patented and DAME-awarded software-controlled propeller blades, which change pitch to generate as much power as possible. Depending on the yacht, the entry-level SD saildrive enables 5 knots of cruising speed and a top speed of 7 knots on the 30 ft Elan E3. Bear in mind that power consumption and speed is inverse in relation to power generation – as you go faster, you consume exponentially more power (see GRAPH 2) The good part is that the motor and the saildrive weigh only 42.5 kg, which offsets some of the battery weight. In addition, all of the motors are all closed-circuit liquid-cooled, so there is no annoying spluttering.
GRAPH 2 : Elan E3 RANGE PREDICTION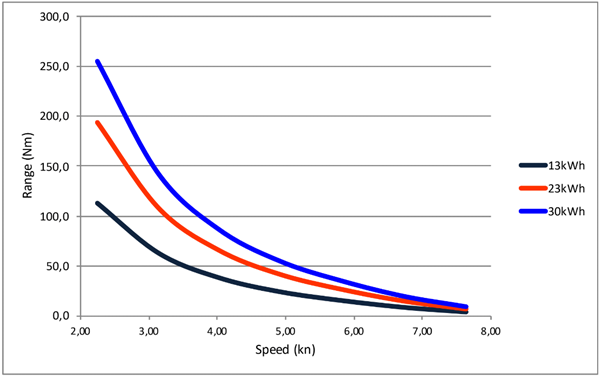 Source: (Oceanvolt)
Want to go electric?
Get in touch with Elan Yachts, and request the configuration of your ideal electric-powered sailboat. Elan is the only yacht manufacturer offering complete electric propulsion solution for the whole range of yachts. Contact our experts, build an energy balance sheet for your needs and your new Elan, taking into account the type of sailing, the environment, living habits and other possible criteria, to create the optimal setup.