Elan

E Line
Based on Elan's signature performance-orientated boat building heritage, the E Line ensures high-performance sailing and impeccable cruising capabilities both on deck and below. A broad stern, chined hull and twin rudders deliver control and stability at high heel angles and speeds, while the airy, well-equipped galley, social saloon and remarkable array of top-of-the-line deck equipment enable extraordinary comfort and short-handed sailing solutions.
These VOR70 inspired yachts, designed in cooperation with Humphreys Yacht Design, now come with the most enhanced standard package on the market, with high-performance sailing solutions as prominent as comfort-centric features. Innovative VAIL (Vacuum Assisted Infusion Lamination) technology provides a tight, strong and stable construction and thus more safety at sea. Backed by a long-standing craftsmanship tradition, Elan Yachts also boast of an unrivalled quality finish highlighting their boutique nature. The E Line truly offers dual-purpose yachts without compromise.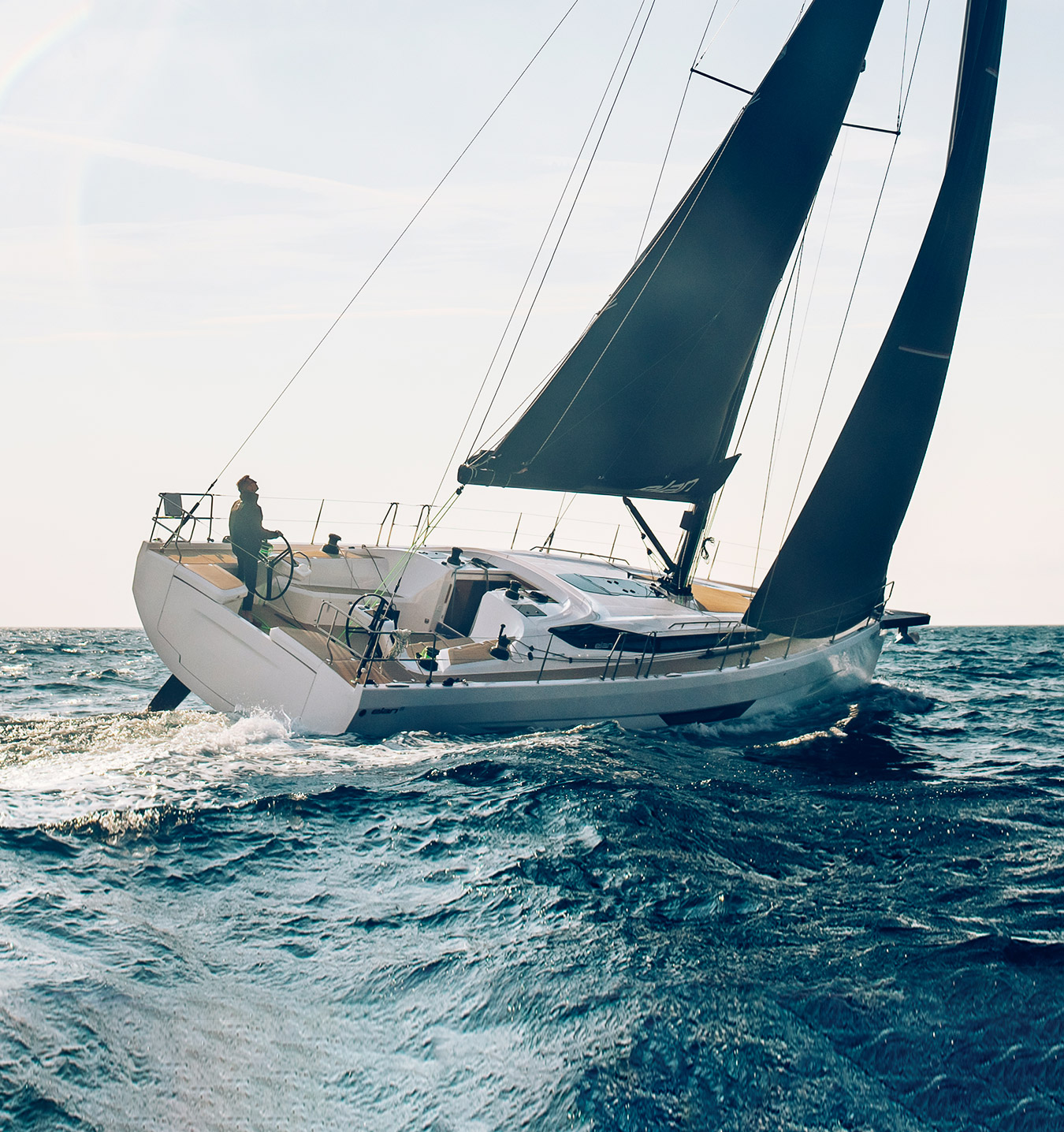 Elan E6
Powered by Elan's high-tech composite know-how and pushed to the next level by industry-leading specialist Gurit, Elan's E6 is built with the highest consumer-level technology on the market. Lighter than competitors in its class, the E6 is the fusion of performance engineering and enriching sailing experiences.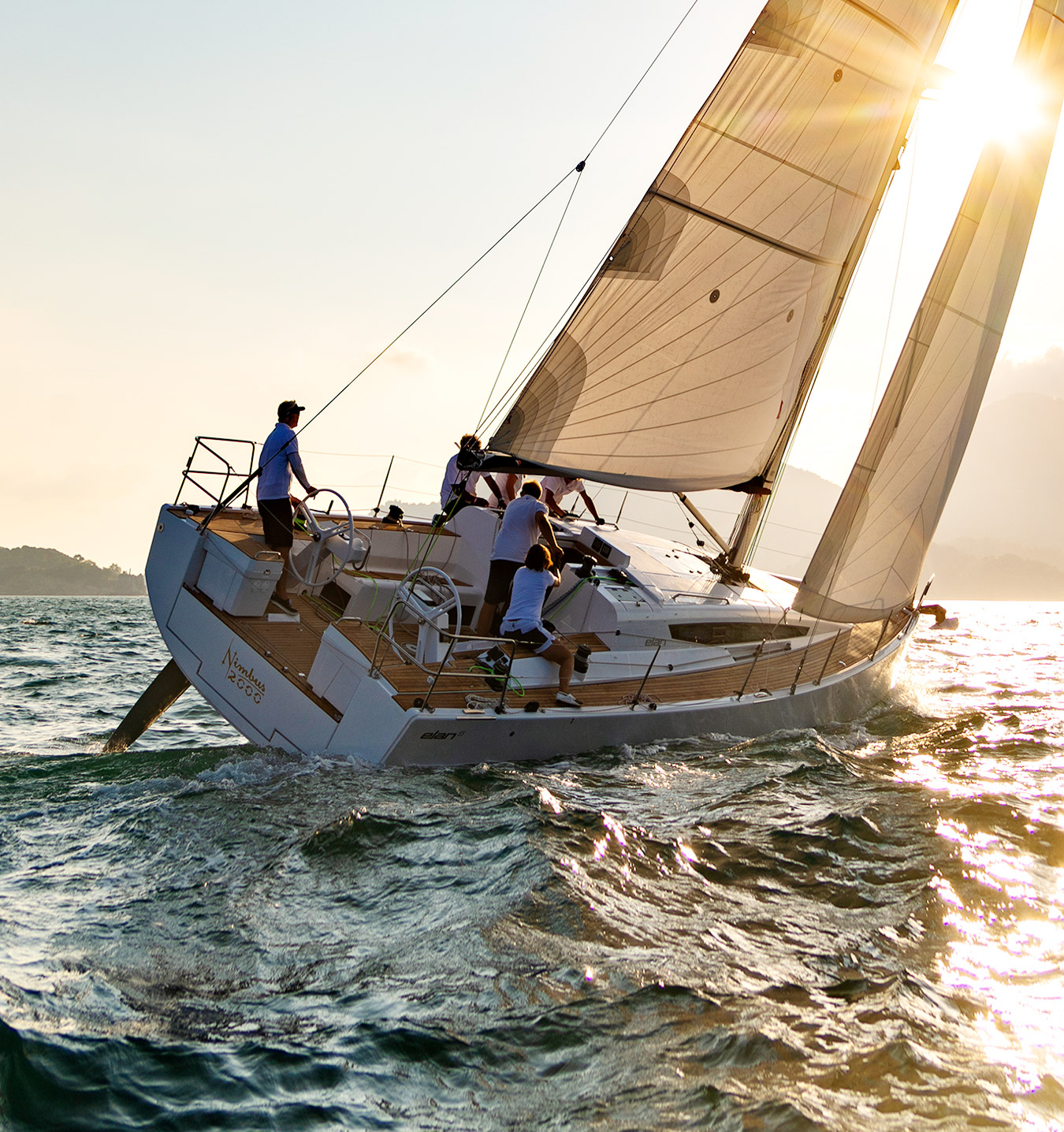 Elan E5
Adorned with performance features and comfort amenities, this fast beauty will put a smile on the face of every sailor.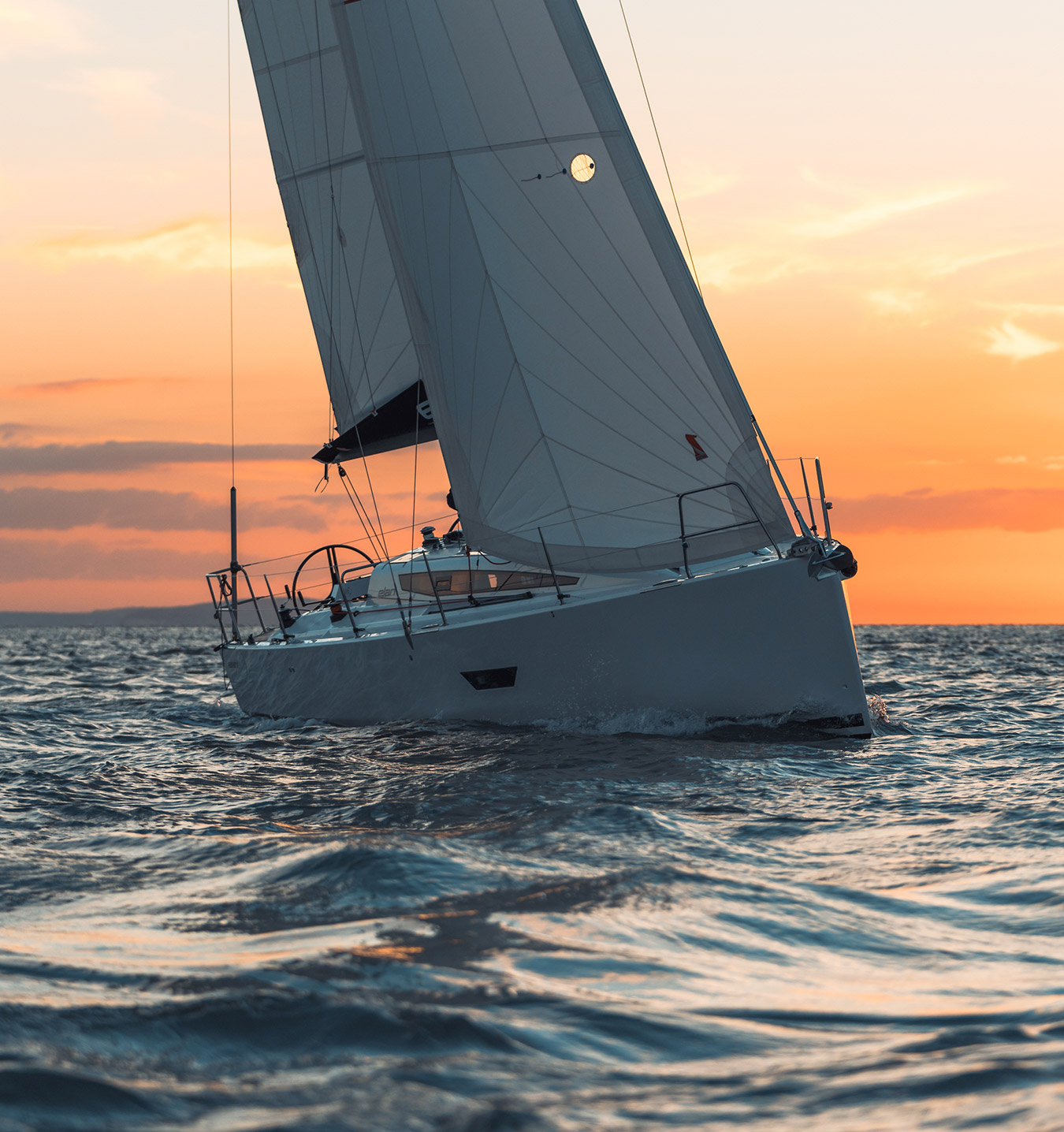 Elan E4
Built upon the legacy of the multiple award-winning Elan 350, this is an ideal yacht for sailing connoisseurs and their family.
 

Length Overall
10.60 m
11.96 m
15.30 m
 
34'9''
39'3''
50'2''
Hull length
10.60 m
11.96 m
14.10 m
 
34'9''
39'3''
46'3''
Length at waterline
10.10 m
11.26 m
13.68 m
 
33'1''
36'11''
44'11''
Beam
3.50 m
3.87 m
4.49 m
 
11'6''
12'8''
14'9''
Draft (standard)
2.15 m
2.40 m
2.80 m
 
7'1''
7'10''
9'2'' 
Draft (option)

1.70 m

2.35m

2.20 m

2.40m (composit)

1.95 m

2.40 m

2.95 m

 

5'7''

7'8''

7'3''

7'10'' (composit)

6'4''

7'10''

9'8'' 

Light displacement
5.420 kg
8.190 kg
11.250 kg
 
11.949 lbs
18.055 lbs
24.802 lbs
Ballast (standard)
1.385 kg
2.700 kg
3267 kg
 
3.053 lbs
5.952 lbs
7202 lbs
Water capacity
185 liters
277 liters
370 l
 
48 US gal
73 US gal
97.7 US gal
Fuel capacity
75 liters
132 liters
240 liters
 
19 US gal
34 US gal
63.4 US gal
Engine Yanmar (standard)
21.3 kW
21.3 kW
41.9 kW
 
29.1 mhp
29.1 mhp
57 mhp
Engine Yanmar (option)
 
33.1 kW
58.8 kW
 
 
45 mhp
80 mhp
Engine Oceanvolt (electric option)

8 kW Oceanvolt electric

10 kW Oceanvolt electric

10 kW Oceanvolt electric

15 kW Oceanvolt electric

15 kW Oceanvolt electric
10 kW twin Oceanvolt electric
Air draft
17.60 m
19.75m
23.26 m
 
57'9''
64'10''
76'4''
Mainsail
39.6 m²
52.16 m²
68.56 m²
 
426.2 ft²
561.4 ft²
738 ft²
Jib
34.6 m²
38.77 m²
53.71 m²
 
372.4 ft²
417.3 ft²
578 ft²
Gennaker
128 m²
135.00 m²
201,7 m²
 
1377.8 ft²
1453.1 ft²
2.171 ft²
I
13.77 m
15.92 m
19.04 m
 
45'2''
52'3''
62'6''
J
4.03 m
4.50 m
5.37 m
 
13'2''
14'9''
17'4''
P
13.49 m
15.75 m
18.3 m
 
44'3''
51'8''
60'
E
4.63 m
5.52 m
6.31 m
 
15'2''
18'1''
20'8''
EXTERIOR AND INTERIOR DESIGN:
Elan Design Team 
Elan Design Team 
Pininfarina
NAVAL ARCHITECT:
Humphreys Yacht Design
Humphreys Yacht Design
Humphreys Yacht Design