Elan

GT Line
Luxury, quality, refinement and comfort are crucial for a Grand Tourer – they're just as important as speed, exhilaration and power. The Elan GT line yachts deliver a luxurious experience; whether you're sailing fast in a strong breeze, motoring quietly along the coast, or enjoying a beautiful anchorage.
The way we cruise has changed and the GT line is designed to reflect that. Whether you choose to sail alone, as a couple or family, with guests or other experienced sailors, those yachts have the versatility to suit your style of cruising.
Why choose between speed and comfort when you can have both? The high-performance hulls of the GT line have been carefully optimised with extensive CFD modelling to be fast, stable and easily driven in a wide range of sea states.
Combined with a powerful and perfectly balanced sailplan, the GT Line yachts deliver great amounts of fun for the helmsman and crew on all points of sail. In the true GT spirit, the yachts race-derived features have been optimised for cruising to deliver precise control in all conditions, impeccable handling characteristics and a smooth, comfortable sail.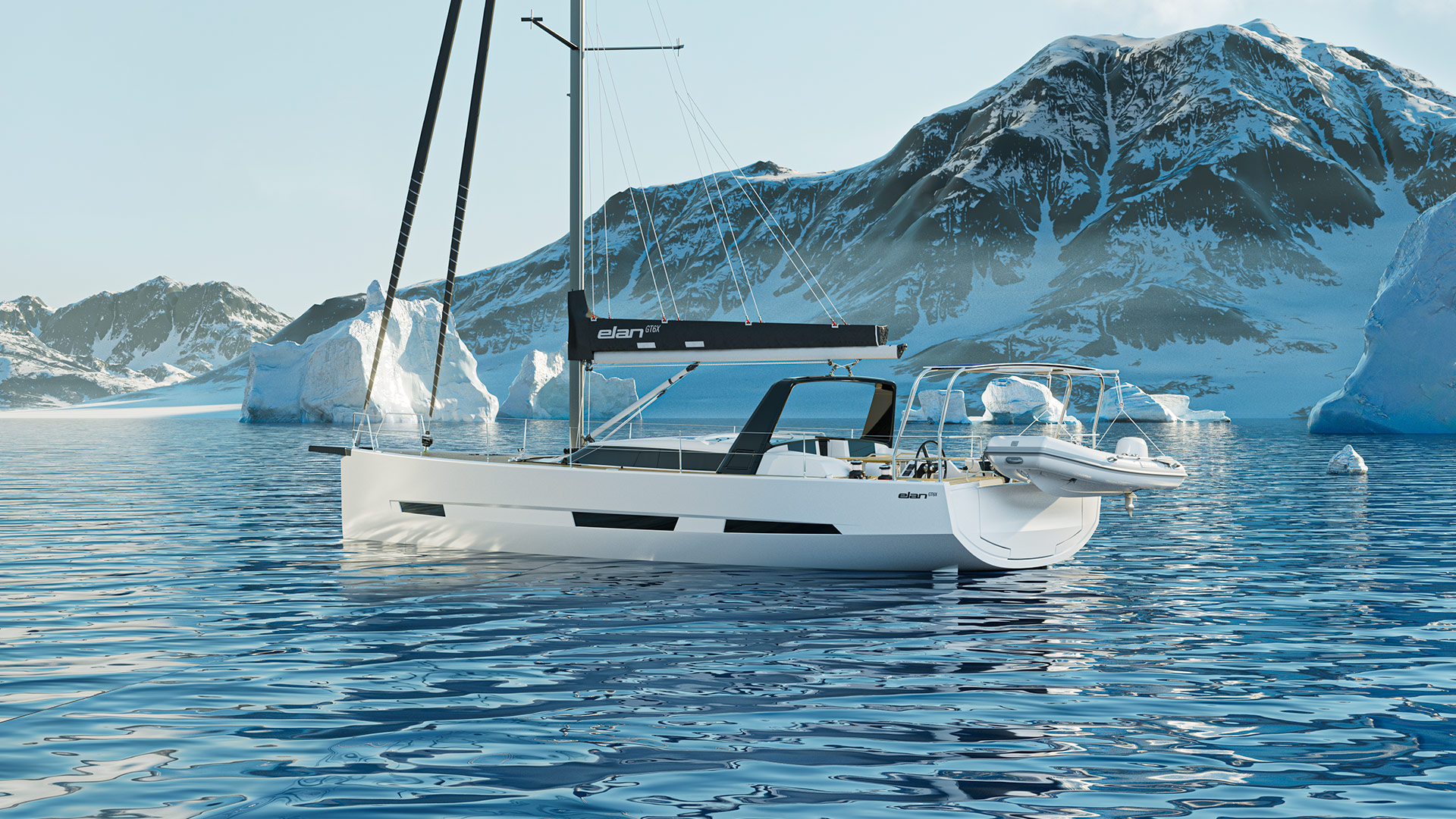 Elan GT6 Explorer
The Explorer offers long journeys across waters, along with a voyage through life's myriad of emotions and experiences. It represents a journey where every sunrise is a promise and every sunset, a collection of unforgettable memories. Incorporating the best in GRP technology, a myriad of blue-water cruising essentials, the Explorer brings a touch of "joie de vivre" philosophy to waters across the globe, uniting the charm of al-fresco lifestyle with modern-day cruising luxuries.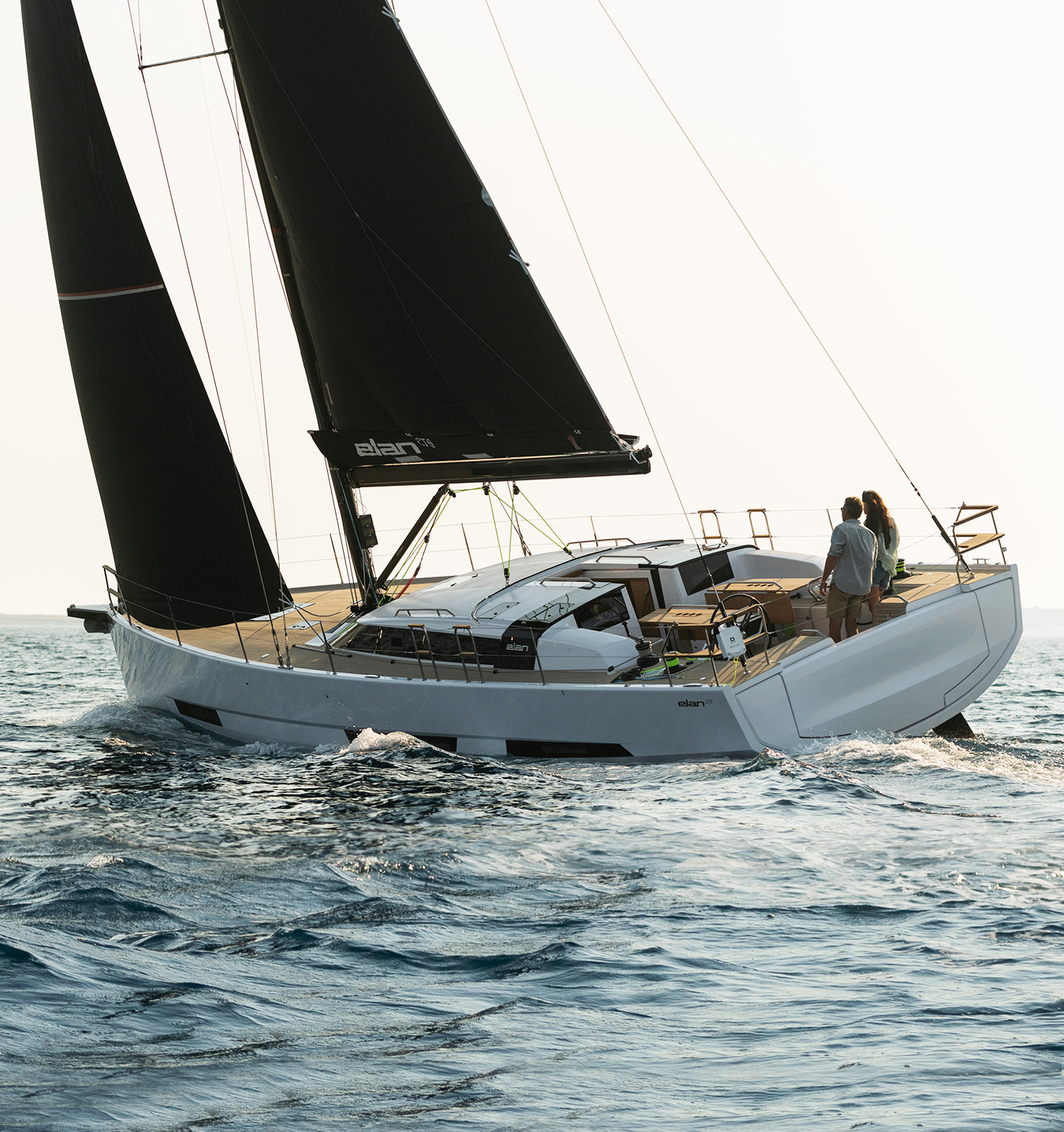 Elan GT6
The Elan Yachts flagship, the Elan GT6 is a next-generation Grand Tourer that delivers the perfect balance of speed and power, comfort and luxury, good handling and precise control. Stiff, stable and weatherly, the high-performance hull and sailplan by Humphreys Yacht Design are optimised for short-handed, medium-range cruising. Unique styling by Studio F. A. Porsche gives the GT6 a strikingly elegant silhouette with sharp, distinctive lines and elaborately curved surfaces.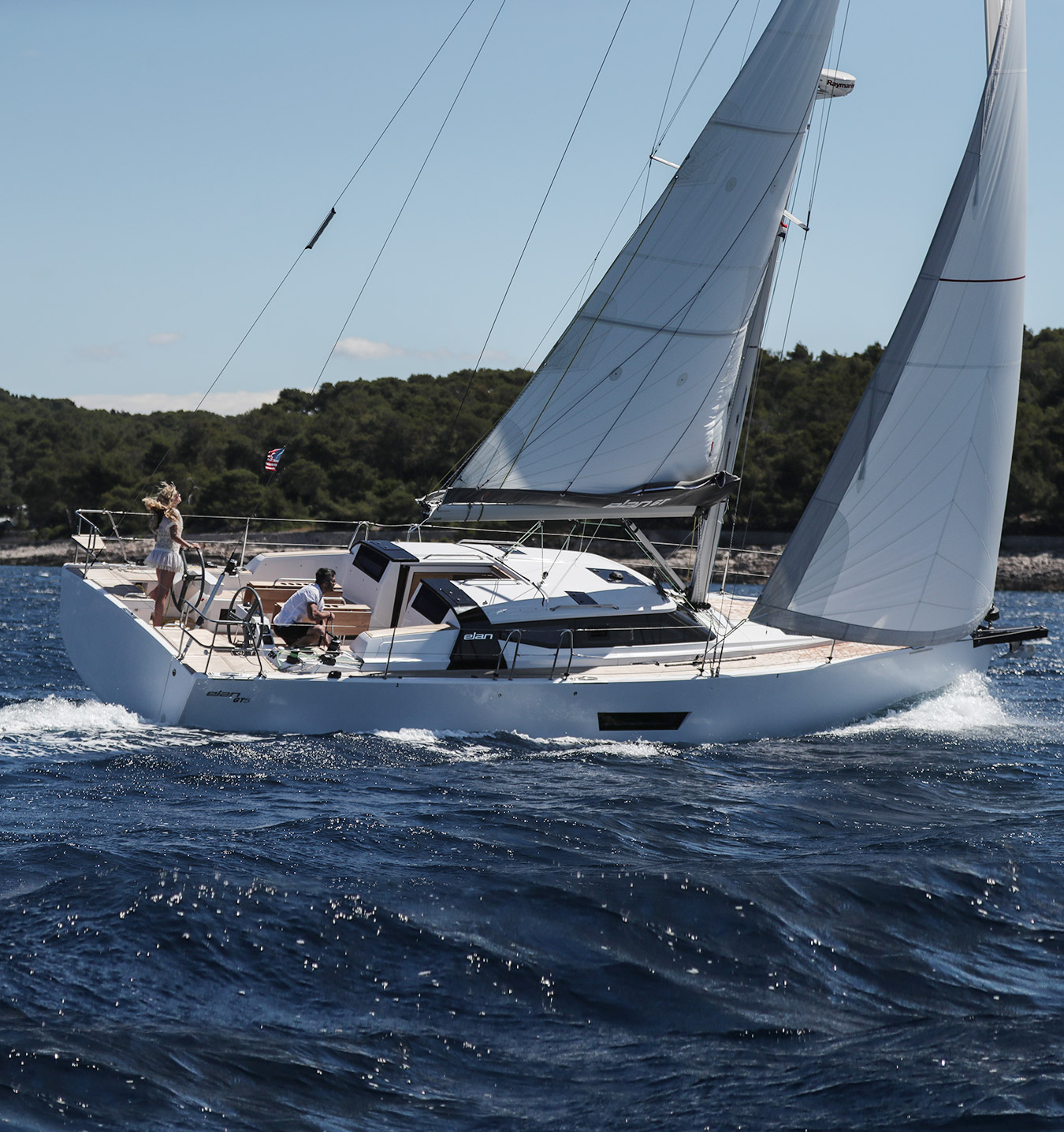 Elan GT5
Launched in 2017 to critical acclaim, the Elan GT5 was a groundbreaking concept, introduced to the world of sailing. Conceived as a grand tourer, a term borrowed from the automotive industry, the yacht exists on the crossover point between a luxury cruising yacht, and a performance cruiser. The GT5 has a performance hull, twin rudders and a hard active chine - all features designed by Humphreys Yacht Design and intended to increase the yachts performance and control. In combination with a semi-deck-saloon for increased interior volume, handcrafted luxury interior and a myriad of luxurious equipment options, this is the quintessential luxury performance cruiser in the 40 to 45 foot range. 
 

Length Overall
13.20 m
15.14 m
15.14 m
 
43'4''
49'8''
49'8''
 Hull length
12.41 m
14.325 m
14.325 m
 
40'9''
47'
47'
 Length at waterline
11.58 m
13.495 m
13.495 m
 
38'
44'3''
44'3''
 Beam
3.91 m
4.49 m
4.49 m
 
12'10''
14'9''
14'9''
 Draft (standard)
2.25 m
2.45 m
2.45 m
 
7'4''
8'04''
8'04''
 Draft (option)
2.45 m/1.95 m (composit)
1.99 m
1.99 m
 
8' / 6'5''
6'6''
6'6''
 Light displacement
8.970 kg
13.340 kg
13.340 kg
 
19.775 lbs
29.409 lbs
29.409 lbs
 Air Draft (incl. antenna)
18.39 m
21.9 m
21.9 m
 
60'4''
71'10''
71'10''
 Ballast (standard)
2.655 kg
3.900 kg
3.900 kg
 
5.855 lbs
8.600 lbs
8.600 lbs
 Water capacity
220 l
500 l
300 l
 
58 US gal
132 US gal
79.2 US gal
Water capacity (option)
490 l
 
 
 
129 US gal
 
 
 Fuel capacity
146 l
300 l
500 l
 
39 US gal
79,2 US gal
132 US gal
 Engine Yanmar (standard)
33.1 kW
41.9 kW
41.9 kW
 
45 mhp
57 mhp
57 mhp
 Engine Yanmar (option)
41.9 kW
58.8 kW
58.8 kW
 
57 mhp
80 mhp
80 mhp
Engine Oceanvolt (electric option)

15 kW Oceanvolt electric

10 kW twin Oceanvolt electric

15 kW twin Oceanvolt electric
15 kW twin Oceanvolt electric
 Air draft
18.39 m
21.9 m
21.9 m
 
60'4'' 
71'10''
71'10''
 Mainsail
46.2 m²
62.60 m²
62.60 m²
 
497.2 ft²
673 ft²
673 ft²
 Jib
32.7 m²
51.14 m²
51.14 m²
 
352 ft²
528 ft²
528 ft²
Asymetryc
130 m²
153 m²
153 m²
 
1400 ft²
1646 ft²
1646 ft²
 I
15.25 m
18.09 m
18.09 m
 
50'
58'8''
58'8''
 J
4.275 m
5.5 m
5.5 m
 
14'
16'10''
16'10''
 P
14.85 m
17.15 m
17.15 m
 
48'9''
59'3''
59'3''
 E
5.3 m
6.15 m
6.15 m
 
17'5''
20'2''
20'2''
EXTERIOR AND INTERIOR DESIGN:
Elan Yachts Team
Studio F. A. Porsche
Studio F. A. Porsche
NAVAL ARCHITECT:
Humphreys Yacht Design
Humphreys Yachts Design
Humphreys Yachts Design