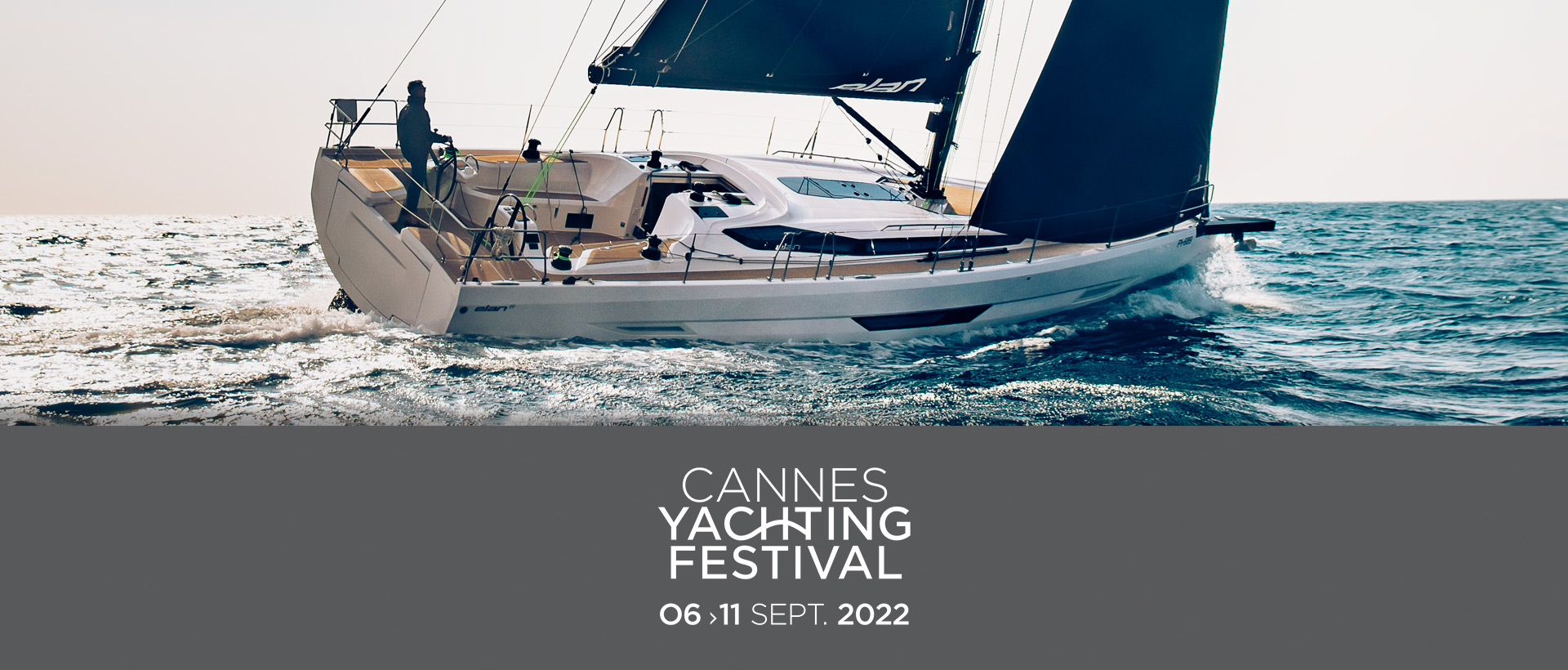 World Premiere of the Elan E6 to be held at the Cannes Yachting Festival
Along with an interactive 360 degree presentation of the new Impression 43
02.08.2022
With the boat show season approaching, it's time to check out what's new in the world of sailing yachts. And Cannes Yachting Festival is the best place to do so, and one of the largest, most visited in-water-boat shows in the world. There, we will host a boat show premiere of their multiple-award-winning performance cruiser, the 47-foot Elan E6  and provide an interactive digital presentation of their newly announced Impression 43. Whoever is planning to visit Cannes Yachting Festival's sailing section in Port Canto, from 6th to 10th of September, should make sure to visit our stand and see the  presentation of these impressive sailing yachts or reserve a private viewing.
Our Cannes presentation will be something to behold. The Elan E6 is amongst the lightest and best-constructed performance cruisers in its class, and should definitely be visited by anyone who is considering a vessel of this kind. The E6 is the brainchild of Elan engineers, the legendary Pininfarina design studio, Humphreys Yacht Design, and composite specialists, Gurit.

 Marko Škrbin, Director of Elan Yachts, the recipient of the Rising Star award in the Boat Builder Awards (METSTRADE 2021).
The Elan E6 was launched earlier this year, and has since won the Red Dot: Product Design award, as well as the International Yachting and Aviation award. The model has already proven to be a sales hit but has not been shown on any boat shows yet, therefore this is a great opportunity to hop aboard!
Elan Yacht offers private viewing of the E6 at Cannes Yachting Festival, which can be reserved here:
We will also be featuring a 360 digital presentation of the upcoming Impression 43. Our team will be happy to take you on a virtual tour of the upcoming yacht 

David Anand Rajapakse, Head of Marketing at Elan Yachts.
The Impression 43 was announced just recently, and it's already causing a stir in the family cruising segment. The yacht is the continuation of a very influential Elan Impression line, which has been a staple in Mediterranean cruising for 18 years. The Impression line went through many different iterations but is now completely reborn with the Impression 43. Modern equipment, beautiful modern design, loads of space and comfort, new safe and easy-to-handle hull, twin rudders and racer-like build quality of the hull – definitely a yacht one should keep in mind.
You can reserve private viewing of the E6 until the start of the boat show or until all possible time slots run out. Private viewing time slots are available every festival day from 10:00 to 14:00 and last 30 minutes.