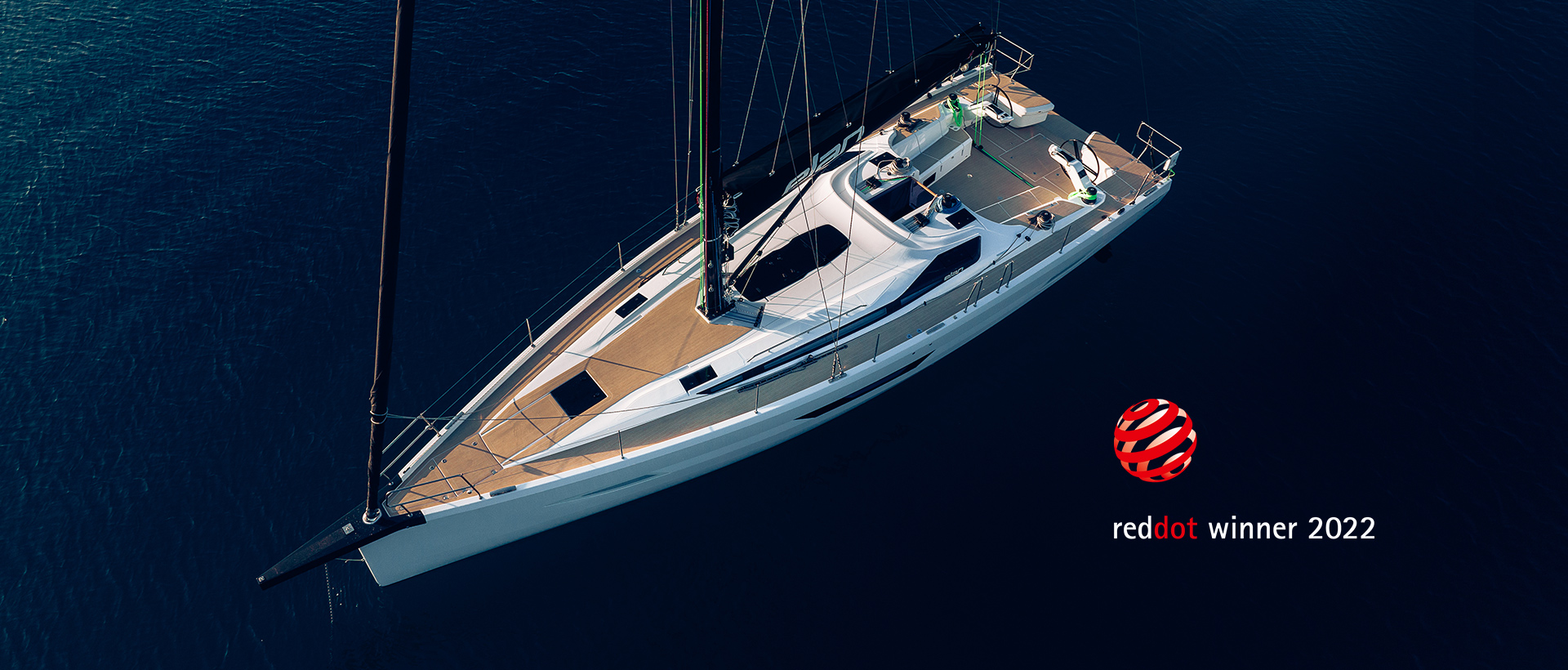 Elan E6 Brings Home the Red Dot: Product Design 2022
The new E6 wins Red Dot: Product Design 2022 award in addition to the International Yacht and Aviation Award 2022
20.06.2022
The Elan E6, our new 47-foot performance cruiser proved to be a true design hit, just months after its launch. We achieved our first Red Dot design award last year with the introduction of our luxury cruiser Elan GT6, and repeated the accolade this year, with the performance-oriented Elan E6. This is the second design award for the Elan E6 specifically, just two months after its launch, which speaks volumes about the E6's impact on the market. The other award is the International Yacht and Aviation Award (IYA 2022), you can read more about that here. Co-designed by the legendary industrial design studio Pininfarina, the yacht stands out from the crowd, while keeping in line with our heritage and legacy. This performance cruiser is perfect for experienced sailors who expect thrilling performance from the yacht while accommodating their friends and family as well.   
The Red Dot jury had this to say about the Elan E6: "The design of this sailing yacht marks a new departure in quite a traditional segment and has an impressive appearance that is exceedingly elegant and contemporary".
Elan Yachts director, Marko Škrbin commented: "It is a privilege for Elan to be in such admirable company of the best design projects in the whole world. I would like to thank our partners at Pininfarina and Humphreys Yacht Design for this amazing journey. It has been an honor  and privilege working with you. But as always, nothing would be possible without our passionate, highly skilled, and dedicated co-workers in Elan who deliver all these complex projects into reality. Thank you all for your efforts and for showing our class yet again, truly embodying our vision of proudly creating solutions for unforgettable memories,"  
Only those products that won over the experts with their outstanding design quality won a Red Dot distinction. The award-winning companies set new standards in the design industry with their entries. The winners include major well-known brands as well as newcomers that are more than able to compete with the big players.