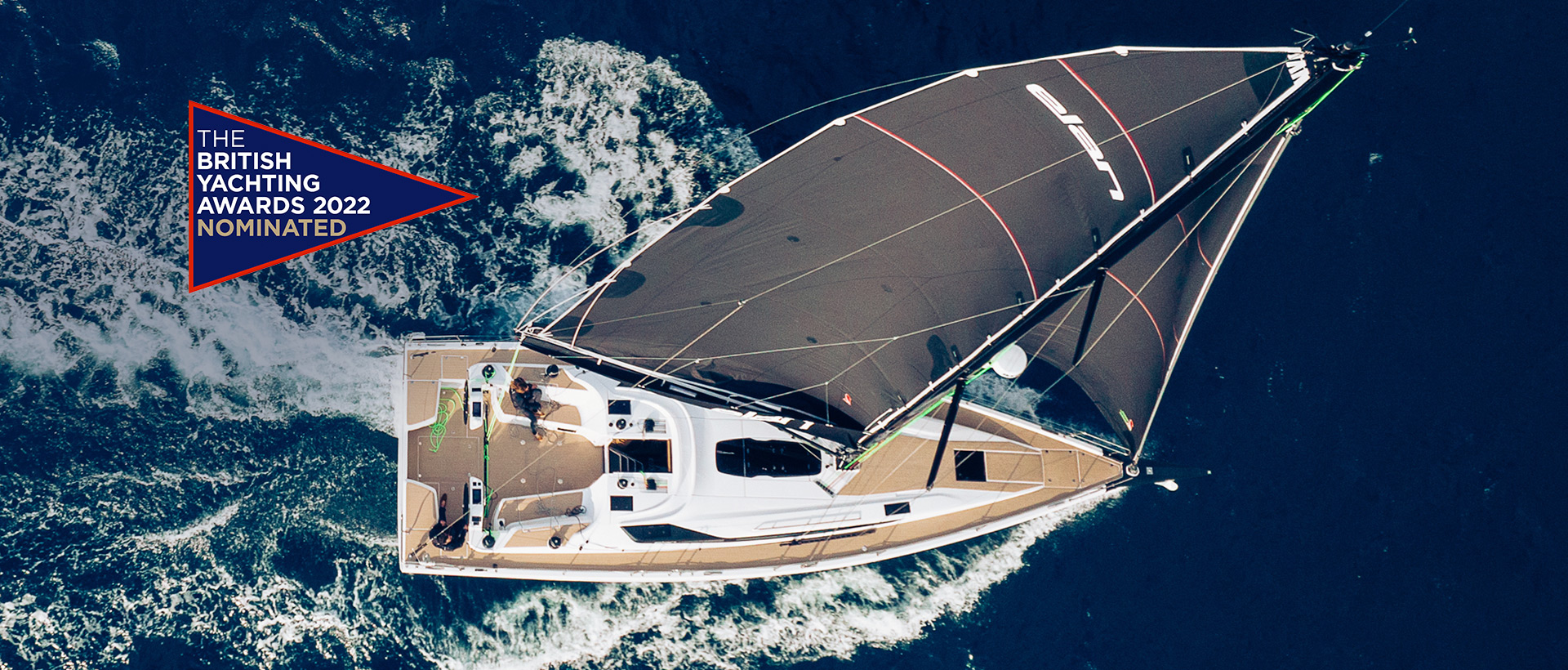 Elan E6 Nominated for the 2022 British Yachting Awards
This sporty yacht is nominated in the Performance Yacht of the Year category
03.10.2022
Elan Yacht's new performance cruiser, the Elan E6, is nominated to be the Performance Yacht of the Year at the 2022 British Yachting Awards. 

Elan's new boat is a cruiser/racer designed by Rob Humphreys, with styling by the Pininfarina design house, probably best known for its work on Ferrari cars. The result is a very alluring boat with sparkling performance.
Sam Jefferson, Editor, Sailing Today

The E6 is the flagship of Elan's performance-orientated E-Line, and was designed by a "dream team" of specialists: Humphreys Yacht Design, Pininfarina, Gurit and Elan. Humphreys Yacht Design is focused on naval architecture. Specifically, distilling more performance on a fully-fitted yacht, while keeping the dual-purpose 60+60 ethos that Elan E-Line yachts are known for. Pininfarina did the styling of the yacht, taking the familiar design language of the Elan E-Line to a new level of aesthetics and functionality. Elan led the project and constructed the yacht, while setting a new standard in composite engineering with the help of world's leading composite specialists, Gurit. The E6 is therefore one of the lightest fully-fitted yachts for serious sailors who expect superior performance, but intend to use it for leisure with family and friends as well.

Unlike many other awards, the British Yachting Awards are chosen by the sailing community. The editorial team takes great care in selecting the nominees, but the sailing community selects the winner! Therefore, you can cast a vote for the Elan E6 yourself; just visit britishyachtingawards.com or click here.

The British Yachting Awards 2022 nomination came weeks after the E6 was nominated for the European Yacht of the Year in the Performance Cruiser category. So far, this beautiful yacht has already won two awards for design excellence: The International Yacht and Aviation award, as well as the Red Dot: Product Design 2022 award. With these new nominations, and a few others already on the horizon, the Elan team is certain that these will not be the last. 
The Elan E6 was launched in March this year, and is becoming a significant player in the industry. You can watch an informative E6 launch video here, read more about the yacht on Elan's website here, and explore the 360° widget here. 
The Elan E6 will be exhibited at the Salon Nautico Barcelona, Biograd Boat Show, and Boot Dusseldorf. Elan also arranges private sea trials for serious customers at their Elan Yachting Experience centre in Portorož, Slovenia. Get in touch with Elan to see if you are eligible.